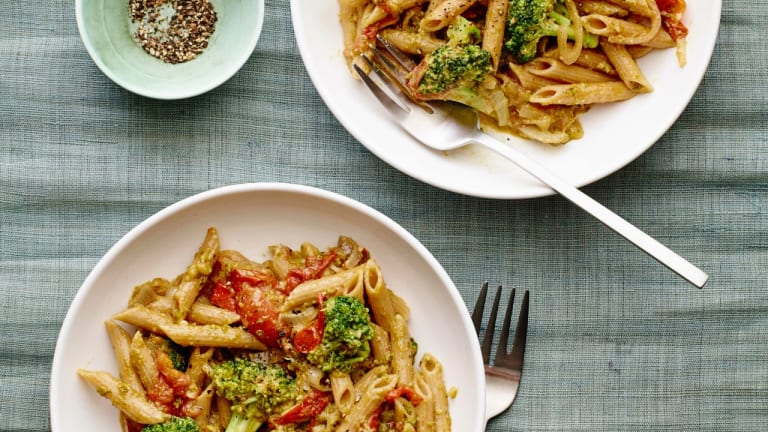 7 Healthy Dinner Ideas
People are always asking me for healthy recipes and menu ideas.  They also ask for foods that are sugar free, fat free and gluten free all because they think they are healthier.  The truth is, most of us can follow a healthy diet and still enjoy a moderate amount of sugar, fat and gluten. We are all built differently and our bodies digest foods differently.  Some people have allergies to otherwise healthy foods.  Some people are on medication that doesn't allow them to eat leafy green vegetables or grapefruit, making these healthy foods, unhealthy.  The trick is to understand what is healthy for YOU.
As a general rule, eating healthy means a diet full of whole grains, fiber, fruits and vegetables and low in sodium and added sugars.  This is the basis for a healthy diet with minor modifications based on your specific needs.  If your body can't tolerate gluten then you shouldn't eat gluten, but there is no need for someone without gluten intolerance, wheat allergies or celiac disease to avoid gluten.  It is great to experiment with all sorts of grains, but you don't have to give up gluten to be healthy.
If you have diabetes you know that your body will not digest sugar properly, so you have to be careful about how much sugar you consume on a daily basis.  Since most foods have some sugar it is more about balancing the whole diet and choosing sweets that are less sweet.
So let's get started with a bunch of healthy dinner ideas that you and your family will love!
This soup is loaded with veggies and brown rice so you have got a whole grain, vegetable filled easy dinner all in one pot.
I love using pesto to get hidden nutrients in a delicious meal.  You can puree any greens and nuts and this version goes lighter on the oil to keep the calories moderate. Add some more veggies and dinner is served. 
You can even enjoy a Rib Eye Steak on a healthy diet. 
Just watch the portion size, keep it to about 6 oz. and serve with these Rosemary Sweet Potatoes and a large portion of Salad with Strawberries and Mangos.
Try this delicious Avocado Stuffed Salmon with Wild Rice one night.  
The Omega 3s in fatty fish like salmon help with brain development and so much more. All you need is a nice Fruit Salad for dessert.
Stir Fried Tofu with Soba Noodles 
This is a great way to go meatless and is a family favorite. Soba Noodles are made from Buckwheat, a fantastic whole grain and serve with Baby Bok Choy.
Polenta is made from corn meal and is a different kind of grain to add to your repertoire. Here it is pan fried and served with mushrooms and cheese. I would eat a hearty and healthy Mediterranean salad on the side, like this Greek Salad.
A vegetarian, bean filled chili is always a good choice. You can add meat if you must, but make sure to let the beans and vegetables take center stage. Serve with Corn Muffins for a Tex-Mex treat that can't be beat!