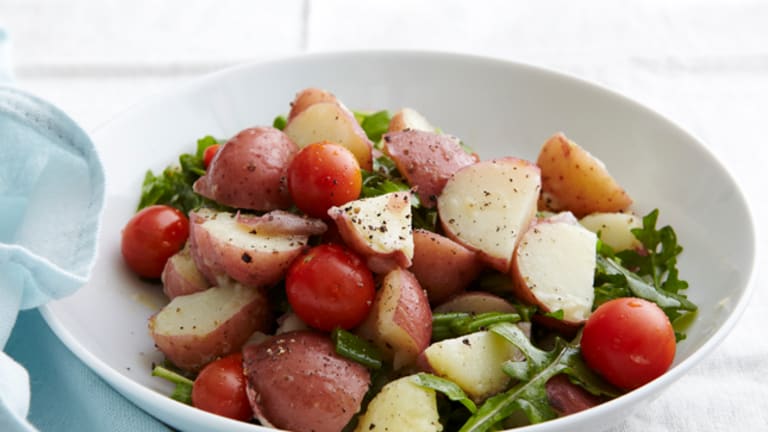 8 Delicious Salads To Serve At Your Next BBQ
As Lag B'Omer approaches along with Memorial Day and the Summer season-- it's time to bust out the BBQ and fire it up! Let's kick off grilling season with some delicious recipes.
I like to think of myself as unconventional, so I say let's leave meat grilling tips for another time. I want to give special attention to our BBQ bash salads. Nothing can eclipse beautifully barbequed meat or fish, but let's talk about how to spruce up the sides to superbly set off that grilled cuisine.
Yeah yeah, I know it's not a BBQ without a good potato salad. But there's no need to do same ol' same ol'. My Potato Salad with Arugula and Tomatoes is a favorite, summery barbecue potato salad recipe, and it's not loaded with mayo!
POTATO SALAD WITH ARUGULA AND TOMATOES
Now as much as I love potatoes, I love the look of layers even more. My trifles, my salads (my sheitel) must all be layered for the precise effect. I think G-d created trifle bowls for lazy hostesses like me!
So, inspired by my love of layers, and a recipe I caught in a past Sandra Lee mag, I came up with a pareve kosher Mexican Layered Salad that includes something for everyone – beans, lettuce, salsa, guacamole. It's a fiesta in a bowl!  
And just in case you are a veg, throwing a dairy BBQ party – you must must must try my Greek Chopped Macaroni Salad. The flavors combine deliciously to give you a unique macaroni salad experience.
Because I Iove corn, here's my take on Summer Corn Salad. I never get tired of corn, year round, but summer seems the best time for this sunny veggie. Here I go again -- adding G-d's gift of avocado to a dish, but this time it's got a new flavor profile once you toss in chickpeas (aka garbanzo beans) and cilantro.
Here I go again with the layers.  I didn't make this one up, but it's so impressive looking I had to add it. 
SUMMER LAYERED SALAD WITH SWEET POPPY SEED DRESSING
When you want a salad that has all the flavor of the grill but is a bit more filling go for this grilled vegetable pasta salad.  
LINGUINE GRILLED SUMMER VEGETABLE SALAD
Change up your potato salad with a sweet potato salad and you will love this dressing. 
SWEET POTATO SALAD WITH TAHINI DRESSING
For more salads perfect all Summer long check out 5-Ingredient Summer Salads.