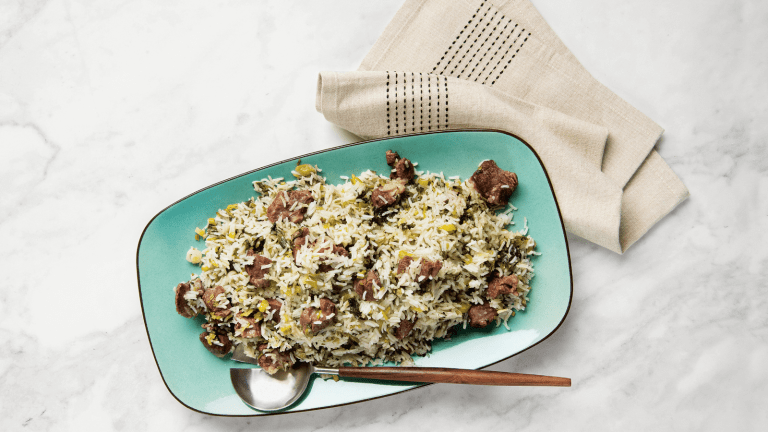 Cookbook Spotlight: Leah Koenig's The Jewish Cookbook
If you are wondering how to find an old recipe your grandmother used to make, that you never got the chance to write down you will likely find it in this cookbook. The Jewish Cookbook is a culinary bible, with over 400 recipes from Jewish communities around the world.
In the breakfast chapter, there are recipes for classic shakshuka, matzo brei, and pastrami hash, in addition to the less familiar Yemenite malawach, a flaky fried bread typically eaten with s'chug, a coriander-based green hot sauce. 
The section on salads and spreads features tabbouleh, pickled cucumber salad, and smoked whitefish salad, but also bazargan, a grain salad from Syria often eaten as part of Shabbat lunch, and a Tunisian savory spiced squash dip which pairs well with crackers or toasted pita. 
For dessert, among many other offerings, The Jewish Cookbook includes three Hanukkah doughnut recipes: one Israeli (sufganiyot), one Moroccan (sfenj), and one Indian (gulab jamun). 
Global in scope, the book also contains a diverse selection of recipes for breads, vegetables, meats, fish, dumplings, noodles, grains, desserts, jams, spice mixes, and beverages from around the world. 
The most interesting part of the book are the short essays interspersed throughout explaining holiday habits and culinary histories specific to Jews from different parts of the world. 
The Jewish Cookbook represents a new generation of Jewish cuisine and is the ultimate compilation of traditional and contemporary recipes. Get a sneak peek with these recipes from the book.