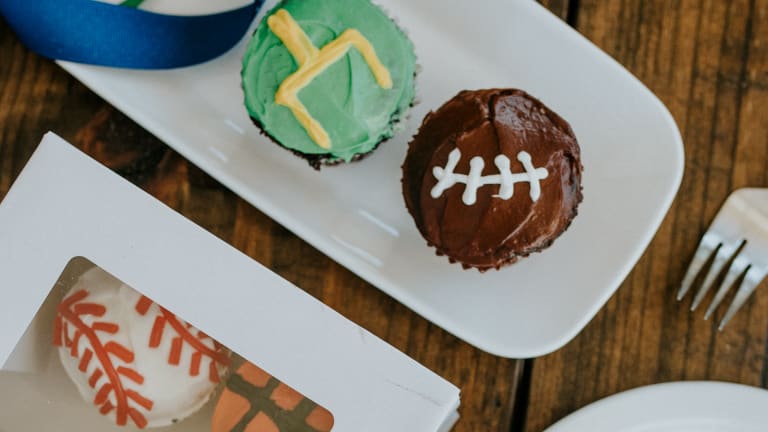 Crazy for Cupcakes
Even-though we are past the trendy "cupcake craze," it seems that the tasty little treats are still going strong.  With frostings, fillings, and flavor combinations galore, the possibilities are endless for cupcakes. 
Making cupcakes from scratch allows you to get creative in the kitchen and combine beloved flavors into a personalized batch of individually-sized sweets. Adjust flavors to fit your family's preferences and keep it as simple or as exciting as desired. Frostings, toppings, and decorations leave much room for artistic originality.
We find the best cupcakes to be those fashioned from other favorite dishes… well-known goodies, deconstructed and recreated in the form of cupcake confections. 
The first two cupcake recipes here are inspired by classic favorites and have a variety of flavor and frosting options. Both cake recipes and all of the filling and topping recipes are completely dairy-free and make for a perfect ending to any meal… summertime or anytime!
While cupcakes are quite the crowd-pleaser, this recipe, in particular, could be considered the life of the party. Inspired by the refreshing summertime cocktail, these Margarita Cupcakes are citrus-y sweet and crisp, each bite bursting with mouth-watering margarita flavor. This sweet and sour concoction can be made entirely alcohol-fee, but a festive splash of tequila really gives the tangy lemon-lime curd filling a fun, fragrant kick. Complete the treat with your choice of either a fluffy Margarita Meringue frosting or a Tequila-Lime glaze.
Another version of a classic turned cupcake, these Black & White Cupcakes put a whole new spin on the popular cookie. The familiar flavors of rich chocolate and floral-y sweet vanilla are paired not only side-by-side, but also from the inside out with a decadent duo of both batter and frosting. These cakes are a fabulous dessert to be enjoyed year-round and are a great way to have your chocolate cake and eat vanilla cake too.
Carrot Apple Mini Cupcakes with Non-Dairy Cream Cheese Icing
This is cupcake that you can still tell yourself is healthy. The parve cream cheese frosting is, no pun intended, the icing on the cake in this recipe, perfectly tying together the savory with the sweet.
This is a smart and easy way to update the classic cupcake. The ice cream cone is an unexpected, yet delightful addition to the traditional cupcake + icing recipe. 
Cookie Dough Stuffed Dark Chocolate Cupcakes
While these cupcakes take a few more steps to prepare, they are worth the work once you bite into the finished product. Cookie dough plus the adult-friendly dark chocolate flavored cupcake make this a filling and enjoyable dessert.
Fig Cupcakes with Pomegranate Frosting
Don't be intimidated by the name, these fig cupcakes are easier to make than one might imagine. While the usual suspects of flour, eggs, oil and sugar are the base of this recipe, they are elevated and bursting with flavor with the addition of fig preserves, lemon and pomegranate juice.
Lemonade Cupcakes with Lemonade Frosting
These cupcakes scream spring! If you are a fan of lemons, then this is the recipe for you. The bright citrus flavor is mellowed by the butter and yogurt that provide the base to the recipe, with each bite proving to strike a balance between sweet and tart.
Chocolate Cupcake topped with a Peppermint Buttercream
Drizzled with melted chocolate and sprinkled with pieces of peppermint candy these cupcakes have a dark chocolate flavor and are super moist. Piled high on top is the peppermint buttercream. You can add crushed peppermint to any of your favorite vanilla buttercream recipes. By using actual crushed peppermint instead of a peppermint extract, you get that slight crunch in the cream that screams that cool & crisp wintery fresh taste. You might want to use a round tip to frost the cupcakes; otherwise, the pieces of candy will get stuck inside a typical swirl tip. The optional melted chocolate drizzled on top helps bring together the flavors of chocolate and mint together. For an extra crunch and a pretty finish, sprinkle on the remaining pieces of candy.
When it is cold outside I will most likely not leave the house without a hot drink in my hand. I'm not much of a tea drinker, but I absolutely love chai lattes. They are so comforting; the aroma itself warms you up. Every sip gives you a beautiful blend of cinnamon, nutmeg, clove and cardamon that, when combined all together, make one incredible drink.
The vanilla cupcakes came out light with a fluffy texture and not overly sweet, which is perfect because it will be covered with just a simple yet rich buttercream. The buttercream is made with the chai spice mix that you make before hand using cinnamon, nutmeg, ground cloves and cardamon. Once iced, the cupcakes were lightly sprinkled with white sugar sprinkles and small white snowflakes giving off that snowy look as well. When you bite into this cupcake, the full flavor of a vanilla chai latte stirs all of your senses.
The pumpkin chai cupcakes are moist and delicious but not overly sweet. The chai tea concentrate adds a hint of spice to the cupcakes, but if you can't find it, you can always just use water. These cupcakes are perfect on their own or they can be paired with chai spiced frosting for a sweeter, more decadent option. If you wanted to serve the cupcakes as a side dish, add ½ cup of craisins to the batter before baking and call them pumpkin muffins! These can also be made in a mini cupcake pan for a cuter presentation.
The sky's the limit when it comes to cupcakes. You can make them simply with a drizzle of glaze, or get crazy with the decorating. Check out 9 more cupcakes for even more ideas. Have fun and go cupcake CRAZY!