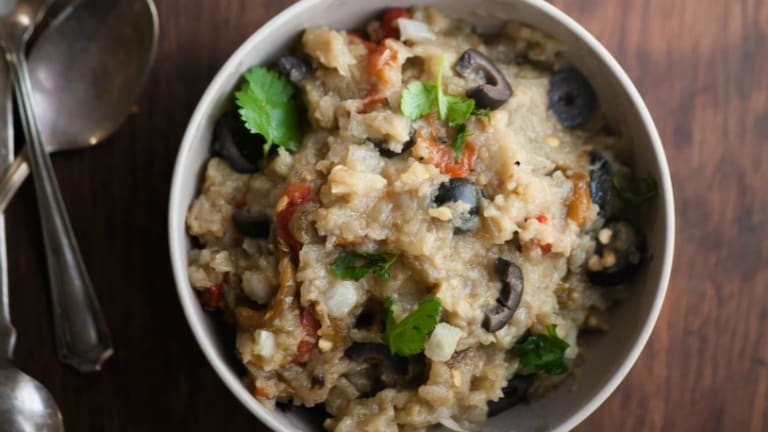 Egyptian Recipes -A Walk Down Memory Lane
I could never have predicted that Egyptian food would provoke a Proustian flood of memories. But there it was, on a recent, nearly two-week trip my husband Ed and I took to Cairo (plus a cruise down the Nile). I tasted Rahib, which, like the author's famous madeleines, carried me back to my girlhood.
My grandma made this dish, only she didn't call it Rahib, which is a lovely word for roasted eggplant and tomato salad. I remember how she roasted a whole eggplant on top of the gas burner until it turned charcoal black, and then mixed the insides with onions and tomatoes, parsley and vegetable oil. In Egypt the salad is made with scallions, fresh coriander and olive oil, but it's the same dish, one I haven't eaten since I was a little girl. So fresh and colorful, begging to be tasted.
I knew, at first bite, that as a culinary matter, this was going to be a tasty trip and one that provoked many memories.
Grilled Eggplant and Roasted Pepper Salad
And so it did. With dishes like Khoshaf, comprised of stewed dried prunes, figs and raisins, which reminded me of my grandma's dried fruit compote. 
And the variety of feta cheese spreads, which my grandmother mixed too, blending feta with whatever vegetable there was because my mother was a big cheese fan, way back, before most everyone I knew ever heard of feta cheese. 
And there was that fabulous M'Hencha, an almond-stuffed phyllo cake, which is a ringer for grandma's Turte.
We are not an Egyptian family. My grandparents were from Rumania, where Turkish, and hence, Middle Eastern cuisine, had a big influence. Or so it seems from what I remember.
I haven't tasted these foods for a long time. But Rahib is so simple to cook, so delicious and also healthy, it will be on my menu from now on, along with so many of the other goodies Ed and I savored every morning for breakfast or lunch: hummus, of course, and falafel (made with dried fava beans in Egypt), Baba Ghanoush and Labne. I'll see whether my cousins have the same reaction to these dishes that I did.
What was new to me in Egyptian cuisine was the fish! Grandma cooked fish occasionally, but usually not when we came to visit. In Egypt Ed and I had a field day trying different varieties and preparations. Baked with spices. Fried and crispy. Braised with Chermoula, a spicy, coriander-based pesto-like condiment. I came home with a new cache of recipe ideas to try.
And so I have. So far the winner is Baked Branzini with Chermoula. But there's more to come. The winter cooking season has just begun.
Don't miss this famous Egyptian dip, Ful Medamas
As nutritious as it is delicious, fava beans and lentils form the backbone of this slow-cooker Egyptian staple.