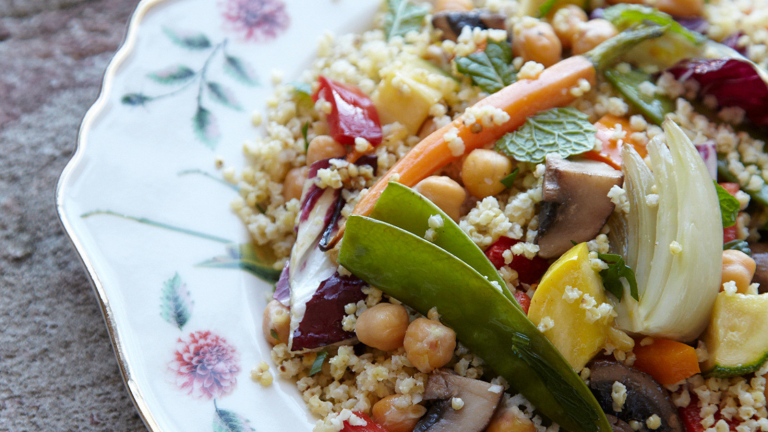 Four Fantastic Summer Salads With Unique Ingredients
Delicious fresh salads using all your favorite vegetables and some new ingredients you will want to add to your pantry.  
Introducing Millet and Arame.  What are they, why you want them and how to cook with them. 

Millet
Millet is a nutrient-rich grain that is incredibly under-used. 
Millet is considered a whole grain, but in fact it is a seed. Somewhat similar to quinoa, it is high in fiber and tons of other nutrients, in particular it is high in many B-vitamins and known to help protect against heart disease.
Millet can be cooked and eaten just like rice and quinoa. It is naturally gluten free and is reminiscent of couscous.
Unlike fluffy rice and couscous which are so good they can be steamed and eaten plain, millet benefits from being combined with strong flavors and spices.
I promise you, though — once you learn how to bring out its best qualities, the grain will grow on you. 
Millet can be very clumpy, so it works well for shaping patties, but mostly, millet just needs love and attention. 
Fat does wonders for this grain. Rather than cooking it in water, use chicken soup or beef stock. Or make it creamy, polenta-style with butter and cheese. Here's a recipe to get you started with using millet. 
This is a vegetarian dish but can be easily served warm next to a hearty beef stew or saucy roast. it can also stand on its own as a complete meal. I generally roast each vegetable separately, but you can steam, blanch and sauté any of the vegetables you choose or even use leftover veggies.
A really simple fresh salad to take advantage fresh Summer corn. Serve with tortilla chips or with pita and falafel in place of Israeli salad.
ARAME
Arame is available kosher (OK certified) under the Eden Organic brand. Arame is a sea vegetable that has been a traditional part of the Japanese diet since ancient times.  Arame is a low calorie, low-sodium food that is rich in dietary fiber and a good source of vitamin
A and is fat and cholesterol free. Arame may be cooked with whole grains, in soups, stir fries, vegetable dishes, homemade breads, stuffing, salads, croquettes, and in making grain, tofu and tempeh burgers.
Arame doubles in size when cooked.  To use, rinse quickly, soak for 5 minutes in cold water, chop if desired, and add to your recipe. Arame makes an excellent side dish when cooked with sautéed sweet vegetables, seasoned with vinegar or soy sauce.
Heirloom Tomato Salad with Crispy Salmon Skin & Seaweed Dressing
Fresh summer tomatoes are the best thing ever — you don't need to do much to a tomato to enjoy it. When I sat down to write up some summer salads I racked my brain to think of the best salad I've ever had with tomatoes. Sliced with basil and fresh mozzarella or with a little olive oil and salt is always great, but I wanted to think of something that surpasses even that. 
Chef Moses from Pardes restaurant in Brooklyn suddenly sprang to mind. I worked in his kitchen for a bit of time where he taught me many things, including this amazing dressing and salad. This is my version of his recipe — a more rustic home-style version. 
Ratatouille is a longstanding family tradition. It's also sort of a family joke. Growing up, my mother made ratatouille every single Friday night of my life — and now all my siblings and I make it as well. Ratatouille is not traditionally roasted, but I find it easier and less sweaty, and it elevates this dish by adding a depth of flavor that can only be achieved with roasting. My ratatouille is a gourmet version of my mother's, but I incorporate her secret touch: roasting fennel in olive oil with a drizzle of balsamic vinegar.
What are you favorite Summer Salads?