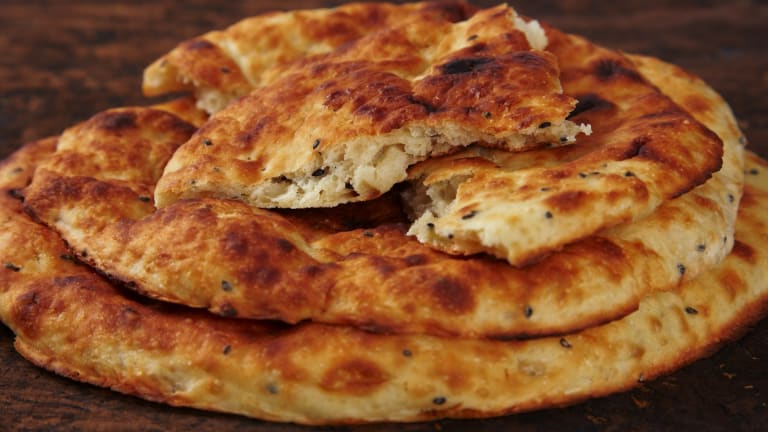 How to Make Israeli Breads That Aren't Challah
Foods unique to specific regions came about due to necessity. In order to survive, people learned to use every resource they had to the utmost. In the Middle Eastern region, breads were all based around a specific set of ingredients that were easily available and affordable: flour, water, yeast, oil, and salt. Because many did not have much else, these ingredients were the basis of various dishes and evolved into famous breads such as pita, lachuch, and laffa that are enjoyed worldwide today.
We met with Leah Nagar, a woman with strong Yemenite and Israeli roots, to help us perfect lachuch and pita. Pita was quite simple to make and we couldn't get enough of the black caraway seeds Leah added to her pita bread. It added another dimension of flavor to the bread and was something unique that you won't find in standard pita bread. 
Lachuch, a savory spongy pancake, was an entirely different ballgame. Leah relates how lachuch is something that took her years to get exactly right. She shares with us her secrets to making the perfect lachuch: Leah has a separate pan for making lachuch and washes the pan under cold water in between making each piece, in order to maintain the exact temperature. Cooking other food in this pan will ruin it for future batches of lachuch. It is a delicate process and most fascinating to watch. 
"You have to feel it," Leah responds when prompted for the precise measurements, and therefore the amounts of flour, water, and oil given are estimates; feel it and adjust accordingly. Becoming so proficient with a bread batter is impressive, as are the results. A truly authentic Yemenite savory pancake, lachuch is ideally eaten with charif and blended tomatoes.
MORE: The Best Challah Recipes
Lachuch resembles a classic American pancake in looks and texture, but tastes different and is not flipped over as are pancakes. it is left to cook on one side only, which is why the temperature and condition of the pan are so crucial to making it right.    
MORE: How to Make Homemade Bread Better Than a Bakery
You can also use this Classic Pita recipe to make laffa, a Middle Eastern flatbread in a hot oven: once dough rises, separate into chunks, roll out dough and grill on hot baking tray in 500 ̊F oven. Black caraway seeds can be found in Middle Eastern specialty stores.    
MORE: Cooking Israeli Food in America
HOW TO MAKE HOMEMADE WHOLE WHEAT POCKET PITA
If I would have to choose a bread to recommend to first-time bread makers, it would be pita bread. It is fairly simple, is loved by all, and this version is great as it uses a blend of whole wheat and all-purpose flour which adds some extra fiber without the bitterness. Leftovers can be frozen or turned into Spiced Pita Chips.