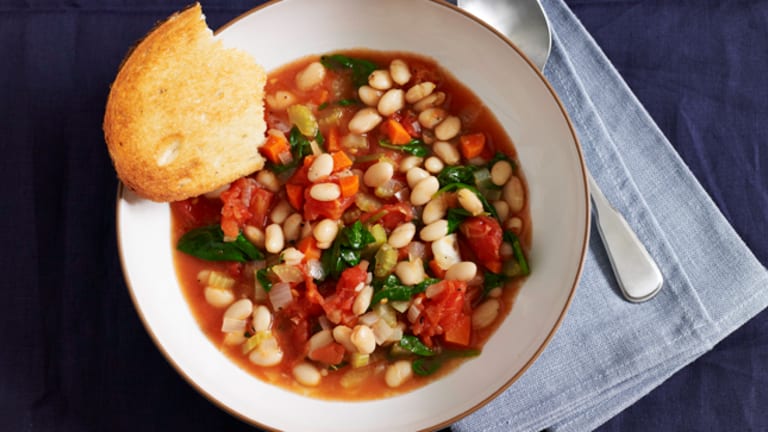 Slow Cooker Vegetarian Soups for Dinner or Anytime
The reason I'm mad about slow cookers is that you can use them for just about anything! Even soups. Really. I love soups that eat like a meal, even when there's no meat. 
With a slow cooker, you can prepare nice hearty bean soups that will amply fill every tummy in your family. They will keep everybody warm and cozy in these cold winter months and full and satisfied when warmer weather arrives. (And it all cooks in one pot. It doesn't get better than that, people.) 
Another factor to remember. Slow cookers aren't just for winter time.  Spring and summer can get so busy with everyone out enjoying the stunning weather and simply living life. Slow cookers don't heat your entire house like an oven tends to do...just another perk. 
If you happen to be a vegetarian or vegan, you'll love these fab soups because they're hearty, rich and pure veggie.
White Bean Soup with Lemon and Garlic Corn Bread
Everything about this dish screams pure comfort food. 
Protein packed and full of flavor, the homemade spiced tortilla chips take this soup over-the-top. 
The ultimate slow cooker dish. Serve with crusty bread or pita. 
This vegetable curry cooked in the slow cooker is easy to prepare and smells amazing when you come home after a long day at work.  
You can find my favorite slow cookers and other can't live without gadgets here.