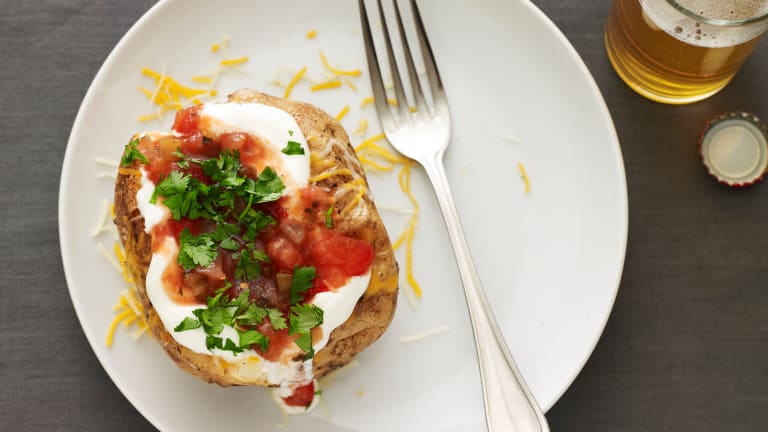 Stuffed Baked Potatoes
Stuffed baked potatoes are a warm, comforting, and inexpensive way to get dinner or brunch on the table.  Stuffed baked potatoes can be simple with butter and cheese or as complex as caviar and truffles. They can be served as the DISH or as a side.
How to choose your potato:
Make sure that the skin has a nice even brown tone without a greenish cast. Inspect the potatoes thoroughly to make sure that there aren't any significant bruises, discolored spots, or sprouts.  A sprout of any size can be toxic, but you'd have to eat many sprouts to get sick. Do not buy potatoes if they have sprouted or have a green tint to the skin. Potatoes that have a greenish hue are "light-struck" which causes a build-up of a chemical called Solanine. This is a natural reaction to the potato being exposed to too much light. The green part, if eaten in large quantity, can cause illness.
When baking a large amount of potatoes at one time, choose potatoes with uniform shapes and sizes; they'll cook more evenly and get done at the same time.
Let's get stuffing!
This classic Spanish favorite makes a delicious side dish as well as a zesty course in a tapas menu. Usually, the potatoes are lightly fried in olive oil and tossed with the sauce; I have added a twist to the dish by stuffing the potatoes with my Spanish favorite, Romesco Sauce. The creamy sauce will open the palate and satisfy the appetite.
Stuffed Fingerling Potatoes with Caviar and Creme Fraiche
Elegant and luscious. This is a perfect example of a "high-low" dish. Chefs love dishes that take a simple and inexpensive or "low" ingredient and then "bedazzle" it with something sophisticated or a "high" ingredient. Stuffed fingerlings with caviar and crème fraiche are perfect for a special occasion or a stylish side.
Corned Beef Hash Tailgater Stuffed Potato
Bring your appetite for this hearty spud. This is a perfect game day potato when huge russet potatoes are the vehicle for the delicious filling, or use a smaller potato and serve the robust dish for brunch, topped with a fried or poached egg.
Curried Vegetable Stuffed Sweet Potatoes
I love sweet potatoes! Sweet potatoes (Sweets, as I call them) are a staple in my professional and home kitchens. I think a great injustice has been done to the sweet potato with the typical Thanksgiving preparation that includes marshmallows, cherries and sometimes pineapple-YUCK! I am amazed that many people eat them only once a year and only with all that stuff on them.  Sweets are nutritious and versatile. Sweets pair well with spices including curry flavors. If you have never tried curry, this is a great dish to experiment with. The dish can be served as a side dish or light entrée.
Now that I've whet your appetite browse through some more stuffed potato recipes and find your favorites.