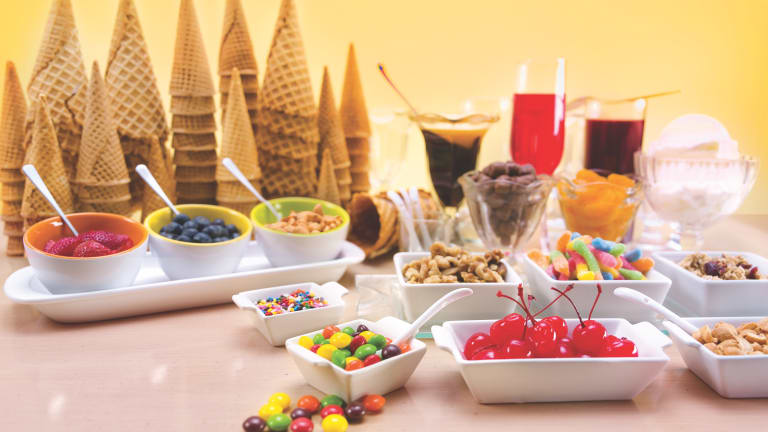 The Perfect Scoop - Favorite Ice Cream Sundae Recipes
Is there a better time for Ice cream?
In my mind there is nothing that screams "summer" more than a big dish of homemade ice cream. One taste of freshly churned ice cream and I feel like I should be sitting outside on a big porch swing enjoying a warm summer day. Even if in reality it is the middle of winter and cold outside.
Homemade ice cream is not difficult to make and fresh ice cream is definitely worth the effort. To get the best ice cream it is necessary to have an ice cream maker, but they are available at a reasonable price and once you have one you will wonder how you lived without it. Especially when it comes to making non-dairy ice creams. Homemade is so much better than the store-bought varieties widely available that there is no comparison.
Most of the time I make parve ice cream to serve after a meat meal, but I love an excuse to serve dairy ice cream when I have the opportunity to make a dairy meal.  
Ice cream gets everyone excited, no matter the age.  So…imagine your guests delight, when after a dairy meal, out comes…an ice cream dessert bar! 
Try some of these flavors, and allow your guests to mix and match delicious sauces and crunchy toppings. The delicious flavor combinations below are worthy of a holiday celebration.
Lemon ice cream with blueberry sauce and candied almonds.  This ice cream tastes like summer. The sweet blueberries and candied almonds are a refreshing and satisfying match for the tangy lemon ice cream.
DECONSTRUCTED CHERRY CHEESECAKE
Cheesecake ice cream with cherry sauce and graham cracker streusel.  This recipe plays with the classic cheesecake by reimagining it as an ice cream sundae. With a rich cheesecake ice cream topped with a cherry sauce and graham cracker streusel, it has all the classic flavors of a New York Cheesecake in a fun and different form.
CHOCOLATE PEANUT BUTTER OVERLOAD
Chocolate ice cream with peanut butter cookie dough, peanut butter fudge sauce, and chocolate-covered peanut butter candies.
This recipe combines two most perfectly matched flavors in an intense combination that is sure to thrill any true peanut butter lover.
Coffee ice cream with caramel sauce and almond toffee.  As anyone who drinks caramel coffee beverages knows, caramel and coffee were meant to go together. With the pairing of this rich coffee ice cream with creamy caramel sauce and crunchy almond toffee, you won't miss your hot mug.
While an unadorned scoop of ice cream makes a great dessert for everyday, when serving ice cream as the dessert for a festive meal I like to pair it with complimentary toppings to make it a complete dessert worthy of company. This Amaretto Ice Cream with Raspberry Sauce and Homemade "Magic Shell" is certainly an elegant ending for any meal. Creamy Amaretto ice cream is topped with a fresh raspberry sauce and a chocolate sauce that hardens into a crunchy shell, like "magic". The chocolate sauce will keep for up to a month at room temperature, so it is a great thing to have on hand to add another layer of texture and flavor to any ice cream.
MINT ICE CREAM WITH STRAWBERRIES AND WHIPPED CREAM
Another great thing about homemade ice cream is that it provides the opportunity to make flavors of ice cream that are not readily available in the stores. This mint ice cream is one of those flavors. It is nothing like the mint ice cream from the store. The fresh spearmint gives it a light herbal flavor that is reminiscent of mint tea. Its subtle sweetness is the perfect match for lightly sweetened strawberries and whipped cream.
DAIRY FREE MINT COOKIE ICE CREAM WITH GANACHE
There are plenty of times when a non-dairy dessert is needed and this ice cream is the perfect solution. Creamy and refreshing, with the crunch of chocolate cream cookies, no one would ever suspect that this Mint Cookie Ice Cream is parve. Top it with rich chocolate ganache and it is sure to win over even those who don't believe a parve ice cream can be worth eating.
Don't have an ice cream maker? Now is the time to get one, use this guide to pick the right one for you - Which Ice Cream Maker Should I Buy?
OR Check out my guide to making ice cream without one.