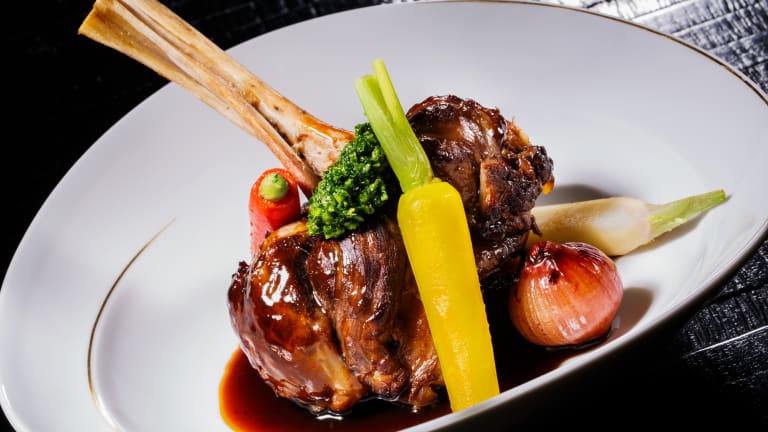 A Taste of Hayarkon 99 at the Dan Tel Aviv Hotel
My husband and I were enjoying a wonderful dinner together in Tel Aviv just a few weeks ago, when we happened to overhear the conversation of a table of airline pilots raving about the incredible food, delicious wine and outstanding service they were experiencing throughout the evening.
We shared the high opinion of our neighboring table for all of the above, but what stood out to me most was the fact that these four men were neither Jewish, nor kosher. When you are able to impress the wings off a group of globetrotting airline pilots, who no doubt have experienced fine hotel dining in far more cities than I could even name, let alone ever travel to in a lifetime, you are doing something right. In fact, probably more than a few things and Hayarkon 99 succeeds at delivering a fine dining experience, which just happens to be kosher.
Hayarkon 99, the flagship restaurant of the Dan Tel Aviv Hotel, accommodates up to 40 guests in a refined and intimate setting. It is quiet enough for a business meeting and romantic enough for an anniversary or other special occasion. The service is attentive and personal and the little touches, from the crystal wine glasses to the decorative tableware, propel this restaurant above many of its peers. Restaurant chef, Oved Alfia, developed a creative menu using the freshest local ingredients that incorporates an eclectic mix of Asian, Middle Eastern and European influences.
Our meal began with Red Tuna Tartare and a Red Tuna Sashimi w/ Yuzu and Ginger. We next enjoyed Vitello Tonnato, a thin-sliced, rare roasted veal with aioli, capers and parsley that elevated a simple roast beef sandwich into something entirely different. We also loved the veal sweetbreads, served with fire roasted tomatoes, seared onions over a potato puree.
For our main course (we weren't going to stop just at appetizers), we tasted the Lamb Osso Buco, slow cooked with root vegetables and gremolata. The meat was fall off the bone tender. We also enjoyed the seared sirloin steak, perfectly cooked and possibly one of the best steaks we have had in Israel. The highlight of the meal was the Veal Fillet "Rossini" served with a medallion of Goose liver, red wine sauce and mushroom truffles. The combination of the rich Fois Gras and aromatic truffles along with the tender veal was simply wonderful. I still find myself thinking about this incredible dish!
At this point, we could barely move, but we had to try at least one of the recommended desserts. We settled upon the chocolate caramel cream with crispy baguette, which was deceptively light and, along with a double espresso to help us stay awake on our drive home to Beersheva, a perfect way to end a wonderful meal at Hayarkon 99.
All photos except the collage have been provided by the Dan Hotel, but I wanted you to see some of the dishes I had first hand, you can also see them all on our instagram page as well as more from Dan Tel Aviv on their instagram. 
Disclosure: I received the meal complimentary, but all opinions are my own.