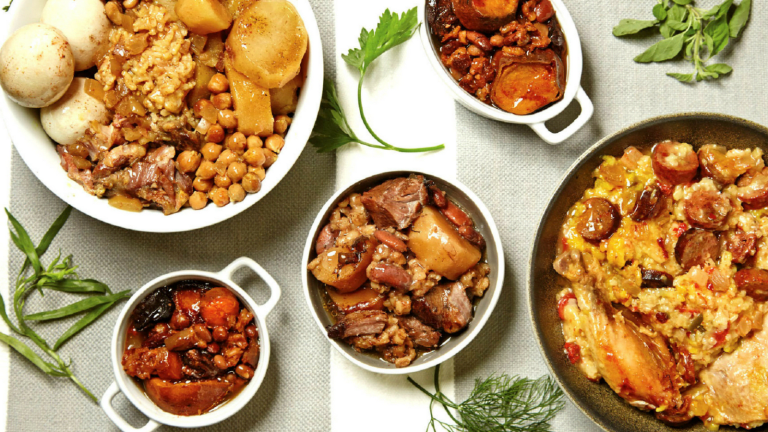 A Taste of Cholent Plus 15 Different Cholent Recipes
It is hard to explain our love affair with the slow-cooked meat stew called cholent. It is not pretty, not healthy and proudly mocks the trend towards modern, gourmet kosher cuisine.   Yet, cholent defines Shabbat lunch for hundreds of thousands of Jewish people every week... and it has been this way for nearly two millenia.
Born of necessity, since cooking on Shabbat is prohibited, cholent is an original contribution by the Jewish people to the culinary world and references date back to the Mishnaic period.  In response to literalists and sectarians who held that any hot food on Shabbat is prohibited, the emergence of cholent  (in all its various forms) represented a cultural and sociological victory for the Pharisees and their descendents.
People have an emotional response to the word "cholent" -- it may be a memory of a meal at a grandparents house, kiddush after shul or that unmistakable smell that warms the entire home on a cold winter morning.  Growing up, cholent was a rare treat, but I will always remember my mom's oversized "lobster" pot used exclusively for the industrial-sized cholent that fed my family and our Shabbat lunch guests.
Tori Avey, creator of  The Shiksa in the Kitchen agrees, "The great thing about cholent is the rich history behind the dish, and the diversity of cholent recipes that are out there.  I don't think I've encountered two cholent recipes that are exactly alike!  My fiance has both Sephardic and Ashkenazi ancestry, so our family's recipe combines both traditions; hearty Ashkenazi ingredients are enhanced by Sephardic spices to create a unique and delicious dish."
In Central and Eastern Europe, cholent was made in a heavy pot and sealed with a flour and water paste.  It was then brought to a communal bakers oven on Friday afternoon and retrieved on the way home from shul Saturday morning.  It was the only way to have a hot meal on Shabbat and the preparation, deposit and return of the fully-cooked stew became its own unique ritual.
Deeply rooted in the food traditions of Eastern Europe, Ashkenazi cholent typically includes beans, grains, fatty meat, potatoes, salt and pepper and sometimes kishke or stuffed derma - an encased blend of vegetables, flour and beef fat (although vegetarian versions are now commonly available).
Every country has their own distinct style and every family their own unique recipe.  Some replace beef with chicken, turkey, veal, sausages and even goose!  Sometimes vegetables are added: carrots or other root vegetables, onions, sweet potatoes, tomatoes or zucchini.  For flavor, many use soup mix, ketchup or barbeque sauce to achieve the desired taste or texture.  In addition to water, some add beer, whiskey, dry wine or other potent potables.
In Sephardic countries, the recipe for what they call Hamin, includes chicken or meat, chickpeas, rice, exotic spices and a variety of dumplings that infuse and absorb flavor.  Iraqi Jews might include a whole chicken stuffed with rice and cooked in the pot overnight.  Kurdish Jews prefer a cracked wheat and semolina dumpling that is stuffed with ground beef.  Moroccan Jews enjoy a dumpling made with a mixture of ground nuts,  meat, bread crumbs, and spices including cinnamon, ginger and nutmeg.  Italian Jews may include sage, ground meat, chard or other winter greens.
Sephardic cholents are sometimes deconstructed, with each ingredient cooking in its own bag and topped with eggs that bake on top of the cholent taking in all the flavor.  When the family sits down to eat together the various components are reconstructed on the plate.
Ari White, chef, and caterer in New York, started a food business inspired by his love of cholent, fittingly titled: Got Cholent? Inc. It is not at all uncommon for his clients to request one or more of his dozen different varieties of cholent along with high-end fare like baby lamb chops or prime rib.  Ari believes that cholent epitomizes New York, "they call New York the melting pot," he explains, "but really cholent is the melting pot.  You take any food you have in the fridge, stick it in a large pot and let all the flavors melt together."
Even with a thousand-year-old dish, there is still plenty of room to be creative. 
Browse through 15 cholent recipe from the most traditional to super creative, you will find all kinds of cholent recipes here.