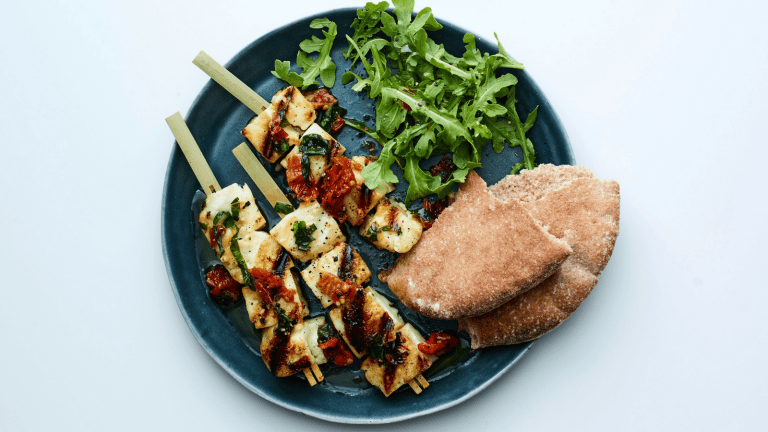 What Is Halloumi Cheese And How To Cook It
Halloumi is a fresh, semi firm cheese, popular in Israel. The taste is slightly tangy and salty.  Halloumi can be cooked in ways other cheeses would not work.  It can be grilled, fried or broiled and won't melt. Similar to India's non-melty cheese, Paneer, halloumi softens when warmed but instead of melting can attain a crispy crust.
The secret to halloumi's sturdy structure is that the whey is heated before the cheese is formed. The protein bonds are broken before forming into curds which is the opposite of most cheeses.
Halloumi is a fun cheese to cook with. It pairs especially well with mint which brings out its flavor and acts as a preservative.  Continue below to find out how to cook halloumi and get our favorite halloumi recipes.  
GRILLED
In order to grill halloumi, it is best to coat it with oil.  Cut halloumi into 1-inch cubes and string onto soaked wooden skewers with peppers, onions and tomatoes. Brush with olive oil and grill until deep brown crust has formed and the vegetables are caramelized. Drizzle with a mint vinaigrette.
PAN FRIED HALLOUMI CHEESE SALAD RECIPE
Another great way to cook halloumi is in a hot pan.  Cut halloumi into ½ inch cubes. Heat a small pan, lightly coated with evoo, over medium heat. Cook halloumi until golden brown on all sides, about 2-3 minutes per side. Serve over a salad or as croutons for a tomato soup.