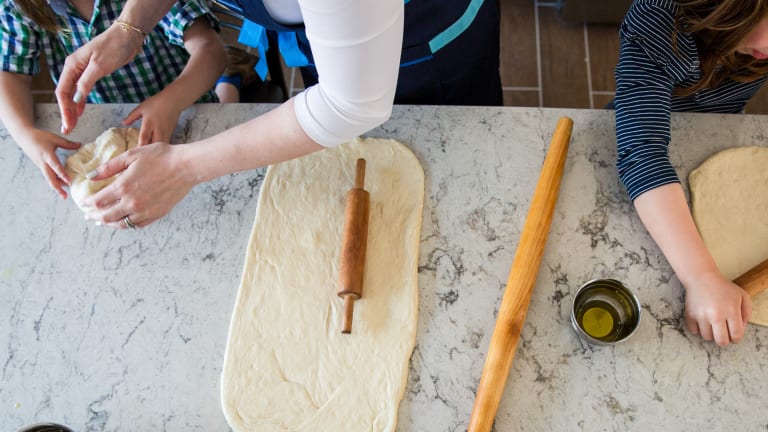 How To Let Kids Cook In The Kitchen
We love this recipe for Mini Quiches for kids to cook in the kitchen.   
They don't require utensils to eat, can be eaten at room temperature and both kids and adults love them.  The best part is that you can get your kids involved in the making.  
Kids can crack eggs, whisk the mixture and roll dough.  There are so many more ways your kids can help out in the kitchen. Here are a few ideas you might like to try.
Kids love to eat with their hands and taste as they go. 
Have the kids help make healthy foods that you won't mind ruining their appetite on.  Have them drain and rinse a can of beans.  Let them shell peas or edamame, it's okay if more make it in their mouth than the bowl. They can really help peel the skin of Fava beans if you can't find them peeled in the store. 
Kids like to cut and rip.  
Let them tear the lettuce.  If you have a plastic lettuce knife they can even help cut the lettuce up.  Either way, they have fun and you can get cut lettuce that won't brown easily.  Bonus, they might just love this grilled cheese salad too. 
Clean the mushrooms.  
The chefs say not to clean your mushrooms with water, rather wipe them with a damp cloth.  This is a perfect task to delegate to a little one, they are good at wiping off all the dirt.  A perfect task when making stuffed mushrooms, they may even be able to stuff the mushrooms for you. 
Get a small serrated knife with a plastic handle.  
Kids can easily cut small vegetables with this knife that is not too sharp and creates a wavy chip look for any vegetable.  I like it for cucumbers.
Whichever recipe you choose, get the kids to help with the heavy lifting.  They love to mash.
For more articles on cooking with kids check out
Spin the Globe Dinner with Your Kids