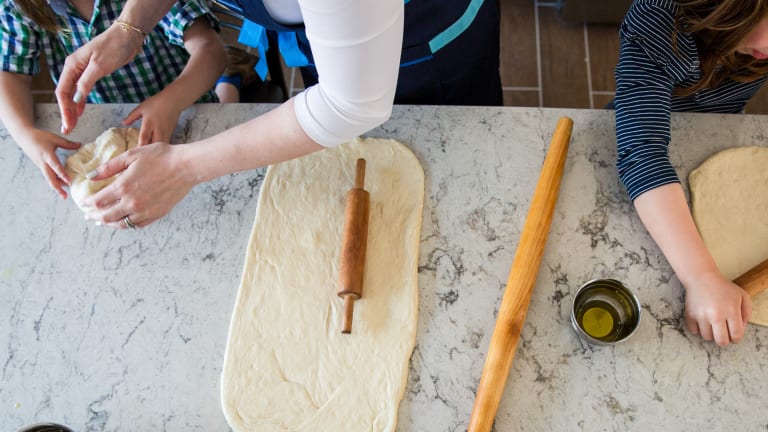 How To Let Kids Cook In The Kitchen
It's a fact, kids love to snack and they are more likely to eat foods they make and can take ownership in, so let's use the opportunity to satiate their cravings and at the same time teach them about healthy food preparation? 
There are so many ways they can help in the kitchen, from rolling out dough, to tearing lettuce, to mixing the batter, and especially taste testing!
Keep reading for recipes your kids will love including tips and tricks for how each kid based on their own age and abilities can help make their favorite healthy treats. 
We love this recipe for Mini Quiches for kids to cook in the kitchen.   
They don't require utensils to eat, can be eaten at room temperature and both kids and adults love them.  The best part is that you can get your kids involved in the making.  
Kids can crack eggs, whisk the mixture and roll dough.  There are so many more ways your kids can help out in the kitchen. Here are a few ideas you might like to try.
Kids love to eat with their hands and taste as they go. 
Choose foods that have some nutrients so you won't mind if your kids fill up on them, even if it means they don't eat so much at dinner.  Have them drain and rinse a can of beans.  Let them shell peas or edamame, it's okay if more make it in their mouth than the bowl. For these Fava cakes, kids can peel the skin off the Fava beans if you can't find them peeled in the store. 
Kids like to cut and rip.  
Let them tear the lettuce.  If you have a plastic lettuce knife they can even help cut the lettuce up.  Either way, they have fun and you can get cut lettuce that won't brown easily.  Bonus, they might just love this grilled cheese salad too. 
Clean the mushrooms.  
The chefs say not to clean your mushrooms with water, rather wipe them with a damp cloth.  This is a perfect task to delegate to a little one, they are good at wiping off all the dirt.  A perfect task when making stuffed mushrooms, they may even be able to stuff the mushrooms for you. 
Get a small serrated knife with a plastic handle.  
Kids can easily cut small vegetables with this knife that is not too sharp and creates a wavy chip look for any vegetable.  I like it for cucumbers.
Whichever recipe you choose, get the kids to help with the heavy lifting.  They love to mash.
BITTERSWEET CHOCOLATE DATE TRUFFLES
We love these truffles because they look so glamorous and kids absolutely have a blast making them. The fact that they are made up of only 2 ingredients and achieve sweetness and texture from dates, makes these treats even better.  Kids can roll and coat the truffles. 
There's nothing as exciting for kids as the sensory experience of mixing ingredients and crumbling it over vibrant, delicious fruit.
No mixer needed for these easy to make veggie filled treats. Great option for picnics, lunch boxes and after-school snacks. 
If you haven't noticed, I am obsessed with halva and its flavor profile. Ever since moving to Israel I am using Silan (date honey) and tahini in and on everything. These granola bars use a little bit of regular sugar, oats, tahini and silan and then you can add anything you want. You can make them gluten free by using gluten free flour.
MORE: Homemade Vegan Granola Bars
Homemade Goldfish Crackers are surprisingly easy to make. With just six healthy ingredients –almond flour, salt, baking soda, cheddar cheese, olive oil, and egg, they make a fantastic gluten-free snack for kids.
MORE: The Best Snacks for School
HUMMUS AND PEANUT BUTTER CUCUMBER SAMMIES
These delicious mini cucumber sammies are filled with an interesting combination of peanut butter and hummus. It is the perfect flavorful protein packed sandwich filling. If you need to add some carbs to your snack, pop it on a thin cracker.
MORE: 15 No-Cook Recipes
These are the perfect alternative to mini pizza bagels. About the same size and gorgeous for a cocktail party or fun for an afternoon snack.
MORE: Best Snacks to Pack for School
A great way to have fun with your fruit, and eat it too!
MORE: Getting Kids to Eat Fruits and Veggies
The best part about galettes is that they are not supposed to be perfect. These are the best desserts to make with kids, they can roll the dough, cut and mix the fruit and even fold over the dough to make that classic rustic tart.
Gingerbread cookies are a guilty winter comfort food pleasure, but Raw Gingerbread Bites are a guilt-free and healthy fix for that cookie craving. After blending the ingredients together, let the kids help to roll them out and shape them.
You can add flavor and texture buy mixing in semi-sweet chocolate chips, coarsely chopped walnuts (or pecans), blueberries, or pumpkin puree – YUMEEEEE!
MORE: Snacking in the Kitchen the Healthy Way
Raw cookies are the best to make with young kids so you don't have to worry what they might accidentally put in their mouths. with these healthy cookies it's all good.
GLUTEN-FREE BLACK BEAN BROWNIES
The only problem with making this with your kids is that the secret ingredient won't be so secret. But they are really healthy baked goods you should make for your kids.
Want stories like this delivered right to your inbox? Sign up now for our *free* Jamie Geller Newsletter.