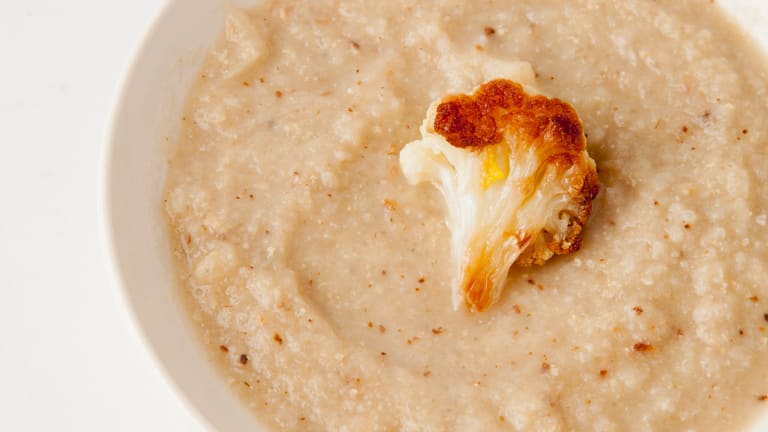 Mastering Roasted Vegetable Soup
Mastering a technique really simplifies cooking; it allows any cook to go with their intuition with regard to both flavor and ingredients and not have to rely on looking up recipes. This simple technique allows you to roast any vegetables you have on hand — literally any! 
Preparing a soup any time will be a cinch and you can use up all your leftover vegetables in the process. Add the roasted vegetables to a basic chicken or vegetable stock and you have an incredibly tasty soup that freezes wonderfully as well. The roasting intensifies the flavor of the vegetables and the all-natural stock allows you to avoid soup mixes and keep things healthy and nutritious.
MORE: Roasted Vegetables: Recipes and Tips
THE GENERAL PREMISE OF THIS TECHNIQUE: 
1. Roast 2 pounds of vegetables in a 450°F oven. Roast vegetables such as cauliflower, broccoli, peppers, tomatoes, summer or winter squash, and sweet or regular potatoes, with 2 tablespoons oil, 1 teaspoon salt, ½ teaspoon pepper, and additional spices of choice. 
2. Bring stock to a simmer (can use homemade or store-bought stock). 

3. Combine 4 cups of stock and roasted vegetables.
4. Simmer for fifteen minutes.
5. Puree until very smooth (use a blender or immersion blender).
Here are 3 easy roasted vegetable soup ideas to get your creative juices flowing. Let me know what kinds of roasted vegetable soups you have made. 
ROASTED CAULIFLOWER GARLIC SOUP
Cauliflower is such a versatile and mild flavored vegetable.  It is so tasty when roasted and makes an unbelievably creamy soup. 
Zucchini are always available and cook up fast. Next time you don't know what to do with your extra zucchini try this soup. 
Filled with vitamin A, this creamy, sweet soup is easy and delcious.