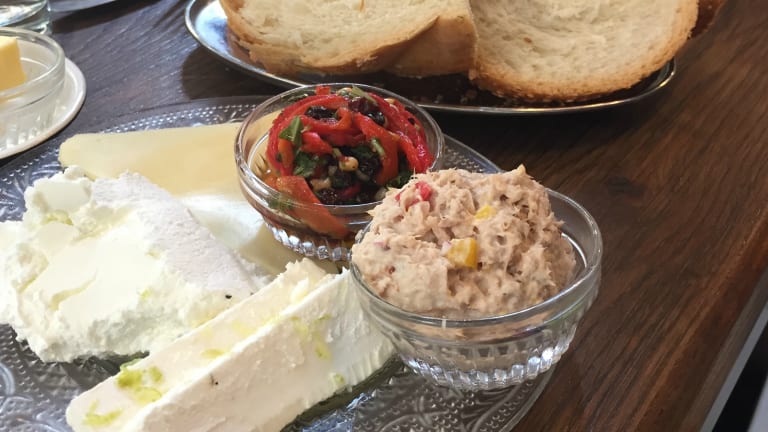 JOY of ISRAEL: The Best Israeli Breakfast in Jerusalem
Where can you get the best Israeli breakfast in Jerusalem?
We asked our loyal readers to help us find the best versions of everything Israel has to offer. We asked the people of Israel. We asked our friends. We asked tour guides. We asked foodies... And now the results are in! 
Scroll down for recipes you can try at home...
Be the first to know! Follow our weekly #JOYofISRAEL updates on Facebook and Instagram.
The Best Israeli Breakfast In Jerusalem
Reader's Choice Winner: 
Café Rimon has been known for it's amazing breakfast since it opened over 60 years ago. On Ben Yehuda Street in Downtown Jerusalem, diners can choose between the meat and dairy sections, and there are newer locations in Mamila and now in Bet Shemesh as well! 
"Every Friday morning from 9am- 12pm you won't want to miss their extravagant buffet of omelets, cheeses, Israeli salads, breads, desserts, and more." -JOYofKOSHER staff
MORE: Health Benefits of the Israeli Diet
Second Place
Café Itamar (Moshav Ora)
"I love that they have so many healthy breakfast options and have such generous portion sizes. Being surrounded by beautiful plants, greenery and a waterfall makes for such an enchanting environment!" - Daniella Silver, This American Mama
"Amazing food and pastoral setting." -Mordecai Holtz, New Media Director for ITravelJerusalem (follow them on Twitter@ilovejerusalem, Facebook, and Instagram @itraveljerusalem)
MORE: 4 Israeli Desserts Inspired by the Shuk
Runners Up...
Café Tamara (Malcha Mall)
The King's Garden Restaurant (King David Hotel, Mamila)
Favorites From the Foodies...
Cafe Paris (Downtown)/ Grand Cafe (Derech Beit Lechem, Baka)  
"Cafe Paris and Grand Cafe - these are two of the most popular places for having a kosher Israeli breakfast for the foodies and gourmet people. The food there is not just tasty with dishes you won't find anywhere else, but it also being served very aesthetically with special care on how your plate looks.  You will find there lawyers and business people of Jerusalem eating there regularly." -Michael Weiss, founder of GoJerusalem.com
MORE: Create an Israeli Cafe in Your Own Kitchen
Kadosh (Downtown)
"To get the european feel in the heart of Jerusalem, go to Kadosh and taste their breakfast but don't stop until you've tasted any of their fresh desserts.-Mordecai Holtz, New Media Director for ITravelJerusalem (follow them on Twitter@ilovejerusalem, Facebook, and Instagram @itraveljerusalem)
Trattoria Haba (Machane Yehuda Market, Nachalot)
"At Haba's you must try the Jaffa Breakfast which includes eggs of your choice, bread, salad, tuna and fresh salmon. The meal is accompanied by salsa, olives, jam, and their special creamy eggplant babaganough. Consider ordering a mimosa, or any of their indulging cocktails with your brunch. If you're looking for the traditional petit dejeuner, try any of their pastries and delicious warm beverages."- JOYofKOSHER staff
MORE: A Modern Deconstructed Sabich
A big thanks to our awesome experts for the insider's info!
If you can't come to Jerusalem, don't worry, we've got you covered! Here are our best Israeli breakfast recipes....Enjoy!    
Don't miss out on the best, JOYofISRAEL.
Want stories like this delivered right to your inbox? Sign up now for our *free* JOY of KOSHER Newsletter.