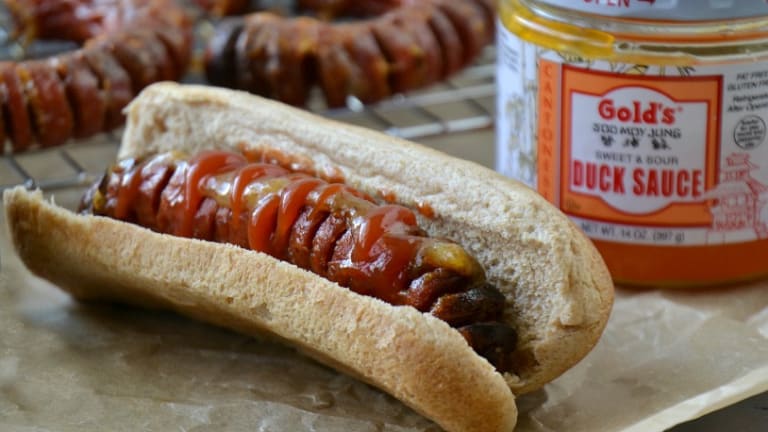 The Secret Pantry Ingredient That Makes Every Recipe Better
There are quite a few secret pantry ingredients we all like to keep around, one all time favorite is Gold's Duck Sauce.  It comes in a few flavors including hot and spicy and sweet and sour so you can tweak each recipe as desired.  The duck sauce provides a flavorful coating for any protein source, meat, chicken, fish and even hot dogs.  The texture of the sauce helps keep the food moist and tender and every recipe is quick and easy and absolutely delicious.
Sliced, assorted vegetables placed under the fish before cooking are an added bonus to this flavorful easy weeknight dinner that is just nice enough to serve company.
This famous chicken recipe wins awards even next to fancy poultry dishes that take hours to make.
Duck Mango Barbecue Sauce Brisket
All you have to do is slow-cook the meat in the oven two days before, remove any fat and save the pan juices for other recipes. Then heat the brisket on the grill and keep slathering on sauce until the meat is hot, glazed and crispy. It tastes terrific from the oven too (425 degrees).
 Sweet & Sour Pineapple Schnitzel
This sweet and sour pineapple schnitzel tastes like a cross between classic Chinese sesame chicken and sweet & sour chicken. Frying the schnitzel in tempura batter not only saves you from making batches of nuggets, but you'll save on calories as well!
You can make this recipe with hot dogs, sausages or salami.  It only takes 5 minutes prep time and there only 3 ingredients for this amazing delicious and fun appetizer or snack, great for kids and big parties.
These Thai flavored tofu lettuce wraps use duck sauce to give a bonus of sweet tangy flavor.
Makes a wonderful meal served over fluffy rice and some steamed green vegetables on the side!
Don't miss this fun video for Kishke Stuffed Chicken, just click play above.
This article is sponsored by Gold's, we have almost 100 recipes featuring Gold's products, get them here.