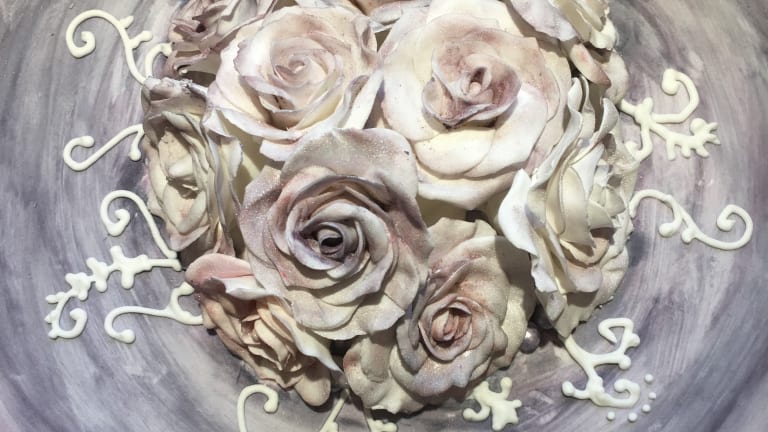 A Year In Cakes
My aliyah flight was filled with many extraordinary people. Some I had the pleasure of meeting in-flight and some I have met over the years, on-the-ground here in Israel, instantly bonded by the moment of a lifetime we shared.
One special someone from my flight that I've met since living here in Israel is Devorah "cake creator extraordinaire" Altman. Devorah was simply born to bring JOY. Her smile and warmth are perfectly suited for bakery life where she dedicates her passion for artistry and sweets as proprietor and Chief Cake Officer of Kosher Cakery. While the magic happens in my hometown of Beit Shemesh, she ships ALL over Israel. And anyone who has tasted her creations knows they are just as delicious as they are beautiful - which is no simple feat!
Devorah and I ran a little happy experiment this past year which you can run too. It's simple. For the cake decorating deficient and/or time strapped moms among us (ehm) we instituted "A YEAR IN CAKES" - that's when I called Kosher Cakery and ordered something special for that special someone.
We went the full year cycle and then some to bring my family (Hubby and 2 Bas Mitzvahs included) personalized cakes, cupcakes and cookies to match each of my loves personal passions.
We kicked it off with the Hubbs.
This was the beginning of our surprise cake experiment. Hubby's Bar Mitzvah parsha is Parshas Noach and to celebrate his quarter century plus anniversary Devorah brought the story of Noah and his Ark to life in 360 degrees around a cake. Complete with edible sea shells, multicolored rippling waves and tasty animals (all pareve!).
Next it was AY's turn. Our Chanukah baby was especially into space at the time of his 7th birthday and so Kosher Cakery imagined a galaxy cake decorated in spaceships and planets. Everyone at the annual Geller family Chanukah party was transported to another time and stratosphere after just a single bite.
Then we celebrated our oldest daughter's Bat Mitzvah. We found beautiful purple dresses for the girls and designed the entire shabbos celebration in shades of purple - from the linens, to the flowers to the cake. Kosher Cakery designed the most elegant shades of purple cake surrounded by cookies almost too exquisite to eat.
Next up, Grandma came to town. So we celebrated with a 3-for-1 birthday special!
Shaulie Dovid, our 2 year old, dined on Celebration Cupcakes.
Noee, our 6 year old, hugged her Hello Kitty Cupcakes and gave them out proudly like precious gemstones.
And Yaakov Yosef, our 10 year old, loved this edible black and white recreation of his favorite new board game.
The final cake will be Rochel Naami's Bat Mitzvah cake in June. And so I'll come back here and post that creation this summer. But even before the final delivery I can share the results of our experiment.
Hubby was shocked (not usually one for suprises).
AY was happy.
Noa was overJOYed.
YY was ecstatic.
Shaulie Dovid covered himself in icing.
Bracha Miriam felt special.
Rochel Naami can't wait.
Now I'm no professional (and this is my first cake experiment) but I can theorize that if you order from Kosher Cakery, you'll have quite similar results. Especially if you live thousands of miles away from loved ones (maybe they made aliyah, maybe they're spending a gap year in Israel) this is the perfect opportunity to send a beautifully designed custom cake. With each bite, they will feel how much you care.
PS - If you want to make believe you are a fancy schmancy cake decorator check out this Rose Cake Tutorial. I promise with all my heart that your cake will look professional (even if it's your first!) after watching this.