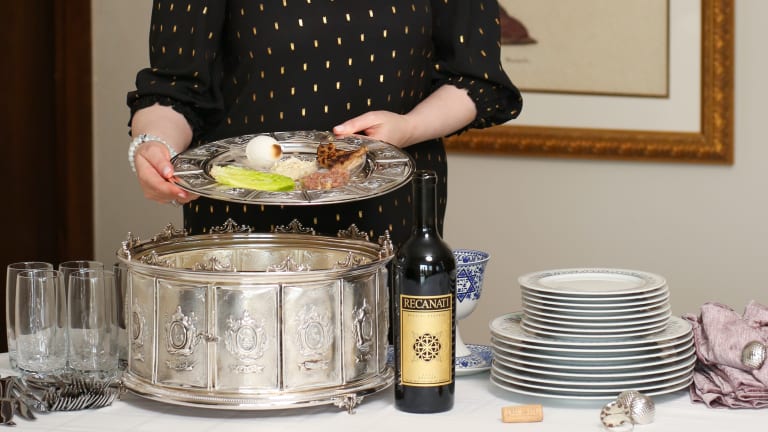 Wishing You A Fun, Memorable Seder
My great Uncle Moishe and Aunt Zahava hosted the Passover seders every year.
Uncle Moishe a"h was my grandmother Miriam's a"h twin brother. They didn't agree on their actual birthday or the year they were born (and so my grandmother's passport had her listed as a few years plus a few days older than Uncle Moishe) but other than that were the closest of siblings. When they immigrated from Transylvania to Pennsylvania they settled and raised their respective families just around the corner from each other in Northeast Philly. In addition to their standing weekly card game with their spouses we, as an extended family, would always get together, especially for the holidays.
I remember being all dressed up in white and relaxing on the couch in their living room or on the piano bench when we ran out of sofa seats until everyone arrived for the Seder.
Aunt Zahava was an incredible cook and an even better baker and we always looked forward to her Pesach egg noodles and her surprise desserts that never tasted "Pesachdig".
But even more than the food we loved the actual Seder itself. Aunt Zahava and Uncle Moishe were educators and they were always devising interactive ways to get the kids and adults into the Seder, since they insisted we recite every word of the Haggadah. Our Seders would last well into the middle of the night with everyone loosening up and singing louder as the hours wore on. Songs, games, and reading around the table (in whatever language you were most comfortable) ensured everyone stayed involved. Then, one year, they introduced Chad Gadyah in Ladino, the Judaeo-Spanish language of Sephardic Jewry; so we lengthened our already loooong Seder by singing Chad Gadyah twice, once in Hebrew and once in Ladino. At first we giggled at the funny sounding words and our poor pronunciation but we came to love our Ladino Chad Gadya and this quickly became one of the highlights of our Seder.
Back to the food...
So much thought goes into menu planning for the Seders and I always go back to my 4-ingredient Seder because it is just too easy. When planning your menu it's always special to include Hubby's, the kids' and your guests' favorites. Even more important than the food you serve, remember to carve out some time to consider how you'll get your kids and company to be active participants in a meaningful Seder.  Find more ideas in our Passover Seder Games article. 
Years after my grandparents and Uncle Moishe have passed I hold onto the melodies of my childhood Seder as strongly as the aromas of Aunt Zahava's Soup.
As my grandmother would say "I wish for you" a happy, kosher, Passover, filled with food and fun that create memories for a lifetime.
Chag Kasher V'Sameyach.