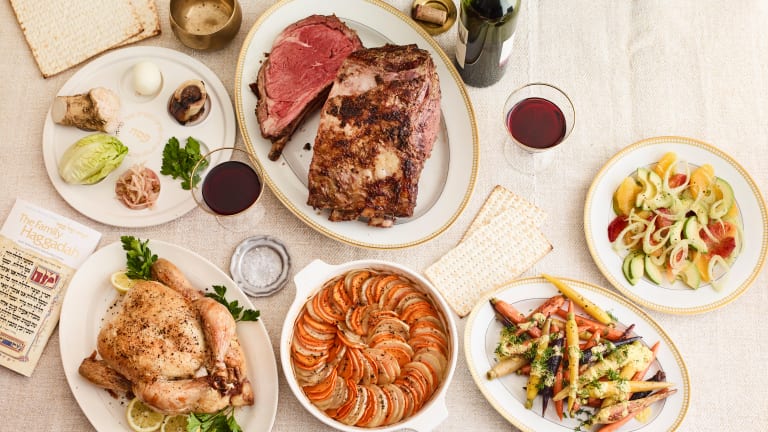 Jamie's 4-Ingredient Passover Seder
You don't need a laundry list of ingredients to wow your guests and create something impressive. After all those weeks spring cleaning, spending hours in the kitchen cooking hardly sounds appealing so I created this inspired menu for this year's Seder with each dish comprising of only 4 ingredients. Simplicity is the newest buzz word in cooking, so you'll be saving yourself time and staying on trend.
Watch me make these recipes here: 
Homemade crispy potatoes are delicious and add a sophisticated touch to creamy celery soup.  
If you have the custom not to serve roast meat at the seder, check out 9 Favorite Seder Mains, Chicken and Beef for all my braised meats. 
4-INGREDIENT HORSERADISH CRUSTED RIB ROAST
A true showstopper. The horseradish adds a festive touch and deep flavor. 
Learn how to make the best roasted chicken of your life!
ROASTED CARROTS WITH DILL GRIBICHE
Elegant, light and flavorful, gribiche will become your go to sauce for dips and sophisticated fish or vegetable plates.  
So many flavors in this uber-simple salad. An added perk is how beautifully it looks plated. 
A tian is a French earthenware vessel and always filled with delicious vegetables. You can use an attractive casserole and make this gorgeous potato dish.   
There is nothing like homemade macaroons to finish off a Seder meal. This version has 4-ingredients and takes 15 minutes to prep.