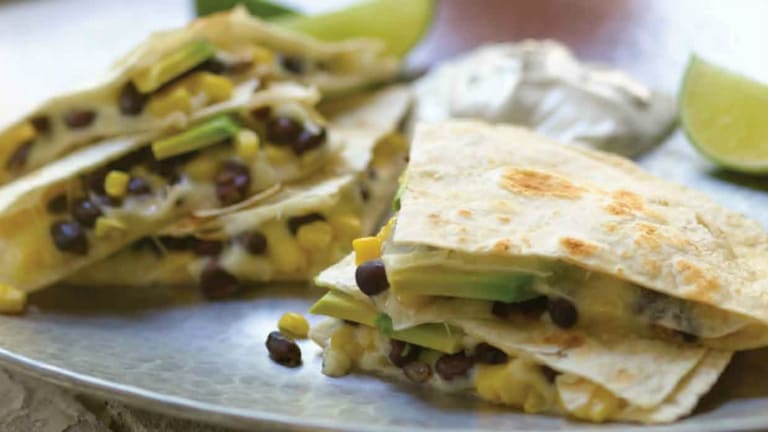 Mexican Back To School Lunches for YOU and the KIDS
Before landing in the Big Apple as an 18 year old college girl I had never eaten Mexican. Chinese food, check, French cuisine, check, I even dabbled in sushi (aka "shushi" in our-house b/c that's how daddy pronounced it). But save for guacamole, South of the Border fare hadn't quite penetrated the northern fringe of Philly in the mid 90s. (And no nachos don't count. According to Huff Post and Josh Chetwynd, author of "How the Hot Dog Found its Bun," nachos were created for an American palate, the result of a little creative thinking — and a missing chef.)  
I became a Mexican maniac in New York when my roommate introduced me to burritos, quesadillas, enchiladas, tamales and tostados. I came to rely on a fast food joint around the corner from college that delivered all hours into the night -- my wallet and waistline were never the same.
Years later I fell into the same trap when kosher Mexican hot-spot Carlos and Gabby's opened their first restaurant five minutes from our apartment. We were crazed, dreaming about the Carlos Taco Supreme and even fed our baby their electric blue and stoplight red colored corn chips (G-d help us!).
These days I've got the chops to make Mexican myself - YAY - and thought these fun ideas would make for unexpected back-to-school lunches, both you and the kiddies will enJOY!
What's a Quesadilla?
The number one question I'm always asked is "How do you pronounce that?" Answer: kay-sa-DEE-ya.
This Spanish word literally means "cheese in a tortilla." It's a Mexican food made primarily of cheese folded inside a tortilla and cooked until
the cheese melts, like a Mexican version of grilled cheese. But there are no rules; you can add more ingredients or forget the cheese altogether and fold the tortilla over any fillings of your choice. 
Pizza Quesadillas are a hit with the kids—all you need is marinara sauce and Mozzarella. I have a great recipe for upscale Blueberry Cheese Quesadillas (made with fresh blueberries, peaches,
and goat cheese). 
My all-time favorite is from my first book, Quick & Kosher Recipes From The Bride Who Knew Nothing: Chocolate Quesadillas, just oozing with peanut butter, melted chocolate, and marshmallow—divine! 
Wonder if that's what the Mexicans had in mind? 
Maybe this black bean, corn and avocado quesadilla is more likely. 
For a hearty, roll-me-home kinda lunch stuff tortillas with beans, rice, poblanos, cheddar, guacamole and salsa. 

I'm a sucker for that neon orange powdered mac and cheese from a box. I crave it something awful, especially when pregnant. But it's a distant cousin, twice removed, from this glorious, gooey, baby of a dish.

What are you planning for back-to-school lunches? Sound off in the comments below.