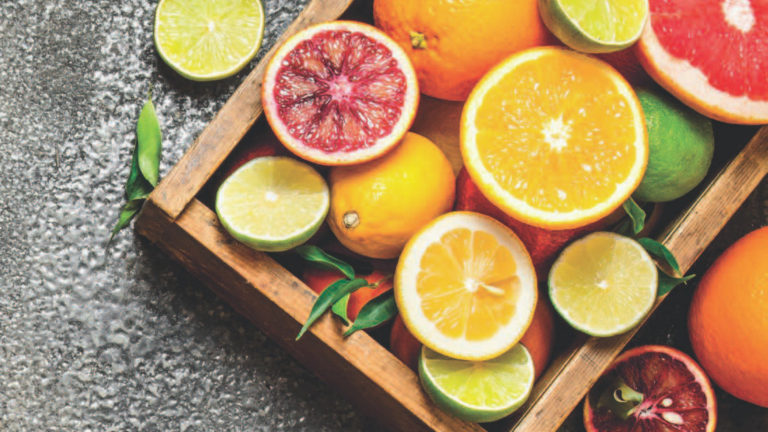 Citrus Recipes to Brighten Up Your Winter
I love cooking in winter. My family, friends and customers are actually hungry. There are no dainty appetites when it is cold outside-everyone is eager to eat. While it is often cloudy and the daylight hours are short it is possible to feel sunny-especially on the inside. 
Winter is citrus season and there are so many varieties to try.  All the bright flavors and colors of summer are available in season during the winter months. It is no accident that when most of us are cooped up inside and colds and flu abound that some of our best protection in food happens to be in season. High in vitamin C, loaded with flavenoids and part of the Mediterranean Diet, citrus fruits are incredibly good for you. So, scoop up all the tangerines, grapefruits, blood oranges and Meyer lemons you can-they will help you feel sunny on the inside.
Here I offer my Citrus Extravaganza with recipes and tips for using citrus:
Salad 
Jamie's ambrosia salad really highlights the beauty and flavor of these fruits. Pairing citrus with vegetables like fennel and radish is another delicious salad option. 
Segment or slice 
Segment to remove any pith or skin or peel and slice into rounds. To create segments that are beautiful citrus sections or supremes-in French that look picture perfect on a plate follow these instructions. 
Cut off a small section from the top and bottom of the fruit. This will give the fruit stability and keep it from rolling around.
Start with a sharp paring knife and cutting board. Cut off a small section from the top and bottom of the fruit. This will give the fruit stability and keep it from rolling around.
Cut down the rind from top to bottom following the curve of the fruit. The goal is to remove the rind and the pith (white bitter part) but not the fruit. Continue until all of the rind has been cut off.
Hold the fruit in one hand and cut 1/2 into the fruit at one of the dividing membranes. Cut on the other side of the segment along the membrane. This should release the segment or supreme. Continue until all of segments are cut out. Squeeze the juice into a bowl and discard the membranes. Reserve the juice for another use.
Snack 
Full of vitamin C, fresh citrus is the ultimate mid-day snack that works as an energy booster and thirst quencher. 
Flavored water 
Add layers of slices to a jug of water. Throw in some fresh herbs or cucumber slices.
Roasted chicken or salmon 
Scatter slices of citrus around and top of chicken or a side of salmon. Drizzle with olive oil, a sprinkle of salt and pepper and roast in a 375°F oven. For salmon, roast about 30 minutes. For chicken, roast for 1 hour and ten minutes.
Zest 
Add zest to any salad dressing, spice rubs or marinades for a burst of citrusy flavor. 
Kumquats 
They are beautiful and irresistible when you see them in the store. They are not for eating out of hand though and need a bit of WORK before they can be added to your menu. You need to plan ahead at least 3 weeks to make Candied Kumquats. This should not discourage you though. Once candied - the kumquats are delicious and will hold up for several months in the refrigerator in their syrup.
Here are a few more of my favorite citrus recipes, enjoy!