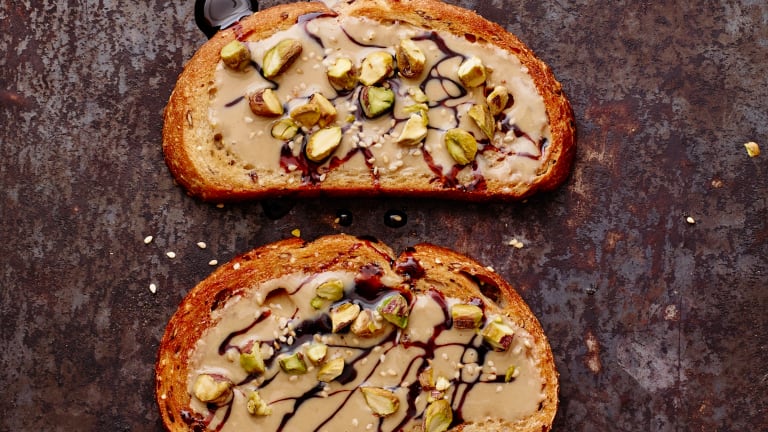 Everything Is Better with Tahini
When I was growing up, we stayed far away from tahini.  My dad has a sesame allergy and I didn't really know what I was missing.  After all, tahini was still largely overlooked as a mainstream product in the U.S.  I remember once trying some packaged halva and I didn't care to try that again.  I also remember having a can of tahini that blended the sesame paste with lemon and water already for you, and it tasted about as bad as it sounds describing it now.
It has only been the last several years that I have come to LOVE tahini (sorry Abba) and I expect more and more people will be jumping on the tasty tahini bandwagon soon.
This summer in Israel I saw the future of tahini.  At the shuk, not only was there the most amazing halva on display, but they even had tastings of different kinds and flavors of freshly ground, sweet and savory tahini.  Walking through the shuk I was reminded of the people offering free fudge samples near the beach.  Halva is like fudge, all grown up.
Tahini, also called Tahina, is a paste made from ground sesame seeds.  It resembles natural peanut butter in texture and the way the oil separates out on top.  It can actually be used as a substitute for peanut butter which opens up possibilities for those who are allergic to nuts.
The nutrition profile of tahini is something worth noting as well.  Tahini contains "unsaturated fat and healthful doses of magnesium and iron. Sesame seeds also contain sesamin and sesamol, two unique lignans shown to lower cholesterol," according to Today's Dietitian.  The seeds are more easily digested when ground up, and have also shown anti-cancer properties.
When I decided to write an article about my newly discovered love of tahini, I adapted a recipe for coated kale chips using tahini.  When my son couldn't get enough, he said to me, "Everything is better with tahini".  Where can I find the t-shirt?
I realized my son was right and I used tahini to make a cold sesame noodles, but in place of noodles I used carrots!!  The cold sesame carrot salad was a big hit.
I always have a container of pure tahini in the house to mix with lemon juice, water, parsley and sometimes even jalapeno or schug for a tasty spread.  I also use tahini to make all sorts of varieties of homemade hummus. A 16 oz. container of tahini used to last me months, but now I'm going through it in just a few weeks.
In addition to the many savory uses for tahini, tahini is the main ingredient in halva, a sweet Middle East and Mediterranean dessert that just happens to be naturally gluten free.  Far removed from the packaged stuff I remembered as a child, halva has gone gourmet. My friend Shoshana shared a few recipes to try and duplicate what we see in Israel and you can get those recipes here.  For me it is a little too much work, so I went for a halva spread.  All you need to do is add a little honey to the sesame paste and you won't believe how easy and delicious this spread is atop toast, pancakes or waffles.  Top with nuts, chocolate chips, coconut flakes or dried fruit and you too will be seduced by the the sesame.
I then took my spread a little further and turned it into a drink.  You can't go wrong with a name like, Tahini Martini.   If you're looking to sip your sesame, try mixing my halva spread with some vodka and sweet liqueur for the sweetest treat of all.
What do you like to do with Tahini?
For more reasons to buy tahini in bulk check out 13 Recipes Starring Tahini.