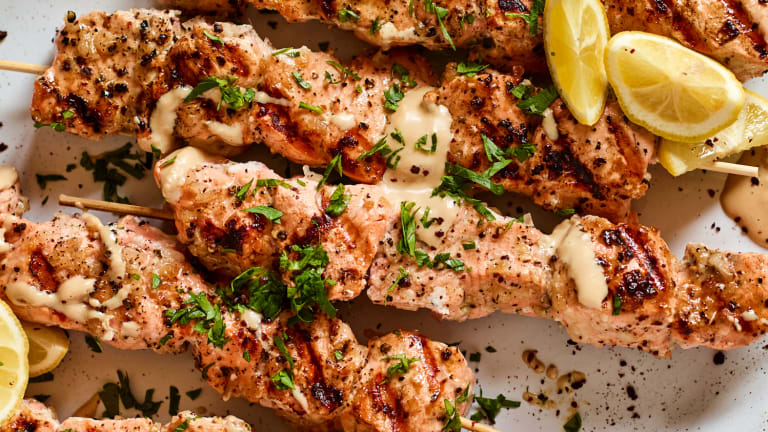 13 Recipes that Show Why Tahini is a Must-Have Pantry Ingredient
Tahini is pure sesame paste, it is one of the most versatile, flavor-packed pantry ingredient that provides endless opportunities to the home cook. Nutty, smooth & rich, its unique texture and taste enhance all dishes from savory to sweet. 
When purchasing tahini make sure you are buying 100% pure tahini paste or you can make your own by grinding or processing sesame seeds until they form a paste.   Some supermarket varieties have added flavoring, but in the case of tahini, you want to control the flavor profile and make the shelf life.  Once you mix it up into a tahini sauce it needs to be used in a day or so, but the paste is shelf stable for months.  
Tahini is the condiment of choice for many Israeli classics like falafel and schawarma. It has recently exploded as the hottest gourmet ingredient showcased by the hottest chefs like Michael Solomonov, Elior Balbul & Einat Admony who are using tahini with a fresh, modern approach. 
We have found that tahini pairs wonderfully with roasted vegetables...sweet potato and tahini are a match made in heaven! Tahini is also a great pairing with rich cuts of meat and grilled dishes. Try it on burgers, add it to salad dressings or drizzle over warm oatmeal or cool ice cream or frozen yogurt. 
SWEET POTATO SALAD WITH TAHINI DRESSING 
BITTERSWEET CHOCOLATE & HALVA SPREAD
ISRAELI MEATBALLS SIMMERED IN TAHINI
ROASTED VEGETABLES WITH TAHINI GINGER DIP
ROASTED EGGPLANT WITH TAHINI & POMEGRANATE
ZA'ATAR ROASTED CARROTS WITH TAHINI