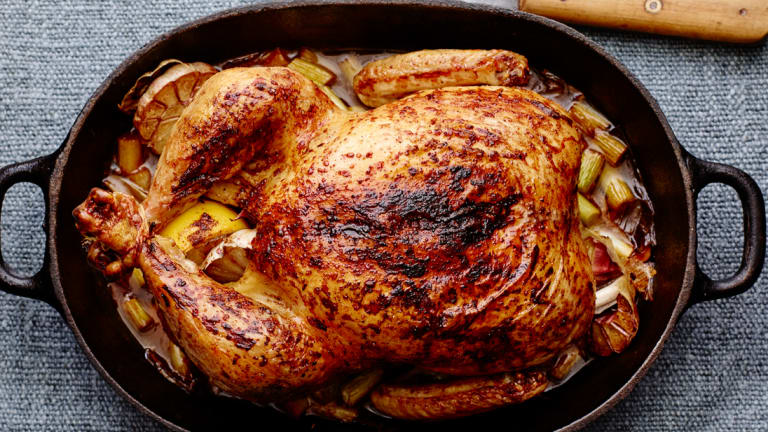 Meal Planning: Make a Double Batch With a Twist
As a kid, I was accustomed to finding strange items in the fridge. Three peas in a Ziploc bag. Four tablespoons of mashed potatoes packed into a small container.  Salvaged brisket marinade in an oddly labeled pickle jar.
At the time, I didn't realize this was the handiwork of my mother who saves leftovers of all shapes and sizes and reuses them in creative ways.
According to the National Grocers Association Consumer Panel Survey of 2009, three-fourths of households mix leftovers into new meals at least once a week. And my mother is the savviest of these household cooks.
Within minutes, she reinvents roast as a tangy Mexican meat salad. Fresh citrus, grated ginger and a splash of soy sauce turn sautéed chicken and vegetables into chicken à l'orange. My favorite magic trick is when she uses leftover chicken soup and crafts the most incredible dish—I don't even know how to label it—by adding tomato paste, cooked veggies, and pasta.
Somehow, I did not inherit this gene and am part of the 2% of people who rarely serve leftovers. On the off chance that we actually have extra food from Shabbos, leftover chicken and rice served on Sunday is nothing more than, well, chicken and rice.
That's okay though because instead of reheating leftovers, I serve "rightovers."
Right What?
The concept behind rightovers is to cook similar dishes at the same time. Enjoy one immediately and store the other in the fridge for later that week, or freeze for use down the road.
I make rightovers while cooking for Shabbos. I'll think of the coming week and make two similar entrées at the same time; one will be served on Shabbos and the other is for Sunday or Monday dinner, or I'll freeze it for a rainy day.
By incorporating rightovers into my meal-planning strategy, I have the luxury of enjoying a full day's outing on Sunday, knowing there's a fresh meal for my family when we come home.
The beauty of serving rightovers is that unlike leftovers, these dishes haven't been reheated or kept in the oven longer than necessary, which often is the sad experience of food that was cooked on Thursday, reheated for dinner Friday night, and then rewarmed (again) on Sunday.
Rightovers: How To Do It
The process can be basic—baking chicken with instant rice and chicken with frozen vegetables—or as complicated as you want. As long as you make similar, but different dishes at the same time, by thinking ahead, you're guaranteed to have a meal on hand for when you need it later on in the week.
Here are a few practical examples:
Double a batch of bread crumbs for schnitzel and breaded fish. Oven bake the fish (cook the fish on a cookie rack for a crispy result) while you pan-fry the schnitzel.
Make a savory roast chicken (think lemon and herbs) while you make a sweet roast chicken (think honey and dried fruit).
Roast butternut squash, parsnips, apples and onions. Sprinkle generously with sea salt. Serve one portion as a side dish on Shabbos, and puree the rest with chicken broth, to be enjoyed as a soup later in the week.
Prepare two different types of chicken with similar sauces. For sesame chicken, combine equal parts apricot jam and Dijon mustard, pour on chicken breasts, and coat with sesame seeds. For honey mustard chicken, combine equal parts Dijon mustard and honey, add chopped dill and diced shallots, pour on chicken breasts and bake.
Preparing rightovers is just as easy with dairy entrées as it is with meat dishes.
When making a big batch of pesto, toss half with pasta and use the rest as a sandwich spread for paninis.
Since spinach lasagna and spinach-ricotta pie have similar ingredients, make both dishes at the same time.
Prepare baked ziti and homemade mac and cheese consecutively because the process is similar.
Rightovers Save You Time and Money, Too
Make rightovers from staple ingredients that are on sale. A two for one special is an opportune time to get cookin'. 
On Monday, prepare gnudi, an Italian ricotta based dumpling, and a crust-less Spinach-Ricotta Quiche. Serve one that evening and save the second for Wednesday night.  The next week, use the rest of the ricotta cheese to make blintzes and calzones, which I made at the same time but served at different meals or froze some.
How do you meal prep for rightovers?