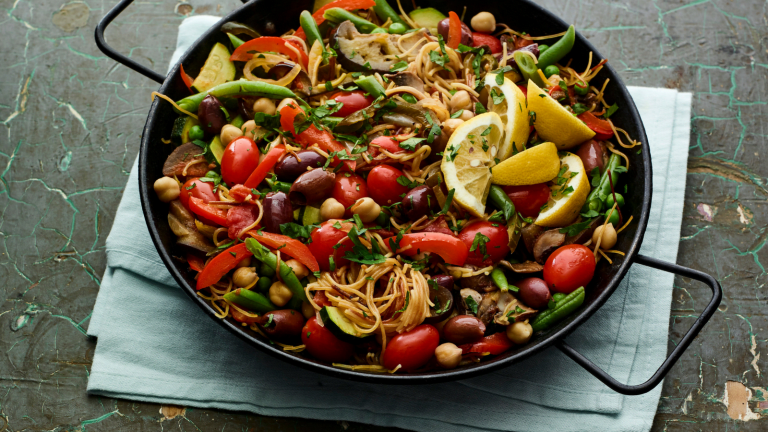 How To Make Paella Without a Paella Pan
Paella is one hearty dish! Typically filled to the paella-pan brim with rice, chicken, seafood, spices, vegetables and more. There is no minimum and no maximum to how many ingredients are combined to make a Paella. Since we keep kosher, our paella recipes skip the seafood, but we find lots of other ways to get in flavor. 
First, how to cook paella.  If you want to be uber authentic get yourself a handy paella pan. It doesn't take up a lot of space and is perfect for stove to table cooking and serving, but it is absolutely not necessary. 
Feel free to use a large wok or deep frying pan, just make sure there is enough space for all the ingredients including the expansion of the rice. 
The key to a great paella is the layering of flavors. It is best to saute anything that can add flavor and crisp up first.  So that means your sausage or chicken, but also large pieces of veggies for the vegetarian versions. 
Then brown the rice or noodles (yes paella made with pasta is a fideua) in the leftover fat from the meat and use broth for added flavor.  Once rice is cooked you will add spices and add the meats or veggies back in to finish cooking all together. 
Now, let's get to the actual recipes. 
9 Recipes For Kosher Paella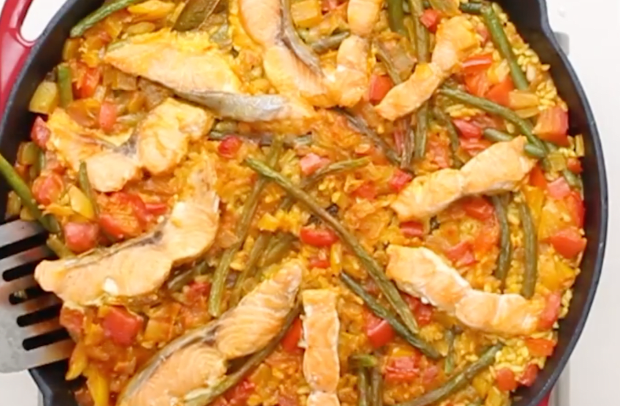 Have you ever made Paella before? Let us know in the comments below.