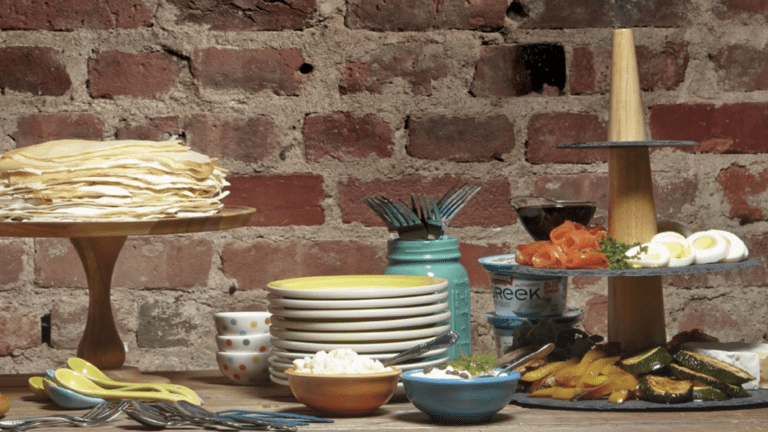 How to Set Up a Crepe Bar
Many associate Shavuot with the classic blintz — savory mashed potatoes or sweet cheese, topped with sour cream. Why not celebrate with a variety of styles and flavors by setting up a crepe bar? 
There's just something about make-your-own bars that's so fun and exciting! Setting up a savory bar for lunch, or a sweet one for dessert allows your guests to assemble crepes that suit their personal tastes and palate. So instead of asking, "Potato or cheese?" you can sit back and enjoy while your guests do the same.     
How to set up a Savory Crepe Bar
TOPPINGS:
sour cream
balsamic reduction
marinara
FILLINGS:
pesto
tapenade
assorted cheeses
eggs (scrambled or hard boiled)
sautéed onions or leeks
grilled veggies
smoked salmon
mashed potatoes
mashed sweet potatoes
sautéed spinach
roasted squash
refried beans 
COMBO IDEAS:
spinach, ricotta, marinara
basil pesto, fresh mozzarella, tomatoes
refried beans, cheddar, avocado, salsa, sour cream
goat cheese, roasted squash, sautéed leeks, balsamic
chocolate, peanut butter, banana
How to set up a Sweet Crepe Bar
TOPPINGS:
whipped cream
ice cream
Greek yogurt
chopped nuts
chopped candies and/or sprinkles
FILLINGS:
pie filling 
fresh fruit 
bananas
SAUCES: 
chocolate sauce
dulce de leche 
SPREADS:
peanut butter 
nutella
ricotta cheese
Check out a few crepe recipes you can prefill for those who prefer everything made for them.