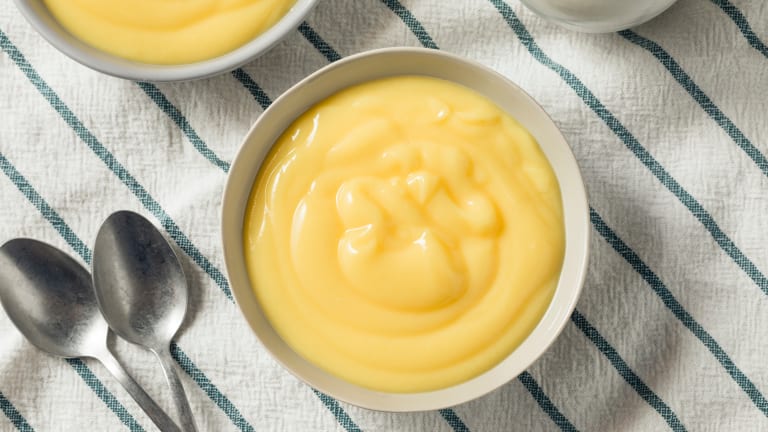 Make Your Own Pudding
When I was a little girl we visited my grandma every week and looked forward to it not just because she was so special but because she cooked all the foods we loved. Like chocolate pudding. My favorite.
I liked that she didn't cover the pudding when it was still hot, so it cooled thick and soft but had a slightly chewy top that my brothers and I would peel off and eat first.
Grandma never called it pudding. It was "My T Fine." She opened the package, poured out brown powdery stuff into a pot, stirred in milk, cooked it until it bubbled, then spooned it into serving dishes.
It was unimaginably wonderful.
After grandma passed away My T Fine never tasted the same. I stopped making it, living on sweet memories instead.
But my husband Ed had his own delicious visions of pudding, so, years later I bought a box of My-T-Fine and cooked it.
It wasn't at all what I remembered. It had a vaguely metallic taste that I hadn't noticed when I was a little girl.
Was I clinging to a lovely but faulty memory?
As it turns out, no. My-T-Fine changed, as I discovered one year at a PTA sale at my daughter Gillian's school. One mom brought in army surplus supplies her husband got at his base – old pudding packages from a time before expiration dates existed.
I read the list of contents: cocoa, cornstarch, sugar and vanillin. The "modern" version had many more, mostly additives.
Fortunately, that made me realize that with a few simple ingredients, I could duplicate grandma's fabulous pudding in just a few minutes, at home, from scratch.
Stovetop pudding is so incredibly easy to make your toddlers can help you. But this is a family dessert, not just kid stuff. You need only mix the dry ingredients (sugar, cocoa powder, cornstarch, salt), add hot milk and cook over low-medium heat until the pudding is thick.
Here are some pointers to make it absolutely foolproof:
Use a rounded-bottom pan so pudding clumps won't cling to the edges where the side meets the bottom. If you don't have one, use a wooden spoon to dig the clumps out of the edges.
Use unsweetened cocoa, regular or Dutch process, not cocoa "mix." Dutch process cocoa is treated with alkali to neutralize its acids. It dissolves more easily and comes out darker.
Whole milk gives the pudding a richer flavor and more luxurious texture but you can make decent pudding with 2% milk.
Chocolate pudding is so basic you can have fun with it by adding even the simplest ingredients such as a few drops of mint, orange, or other extracts. Or for a Mexican style version, mix in 1/2 teaspoon cinnamon and 1/8 to 1/4 teaspoon pure chili powder. For Mocha pudding, mix in 1-1/2 teaspoons of instant coffee powder. If you like even more chocolate, stir in 3 ounces of chopped bittersweet chocolate just after you finish cooking.
"Boxed" pudding is even faster when you prepare your own mix ahead of time. Combine the dry ingredients and store them in airtight containers (these make good Mishloach Manot and dinner gifts).
I can't imagine eating chocolate pudding without cream. Warm pudding with cold, thick, heavy sweet cream. A half spoonful of each, a miracle on my tongue, the stuff of fantasy. But pudding is good plain too or with whipped cream. Or poured into a baked piecrust. And one of my family favorites is an old-fashioned "Pudding Cake" my mom used to prepare using chocolate pudding PLUS vanilla (or butterscotch) pudding and graham crackers. I top it off with whipped cream and shaved chocolate.  My famous Pudding Cake recipe can be found here.
Here you can find 10 recipes for all kinds of pudding, from my traditional versions in different flavors to rice puddings, to interesting vegan versions to chia pudding.  All of them are super easy. It's time to make some pudding. 
DIY Pudding Recipes