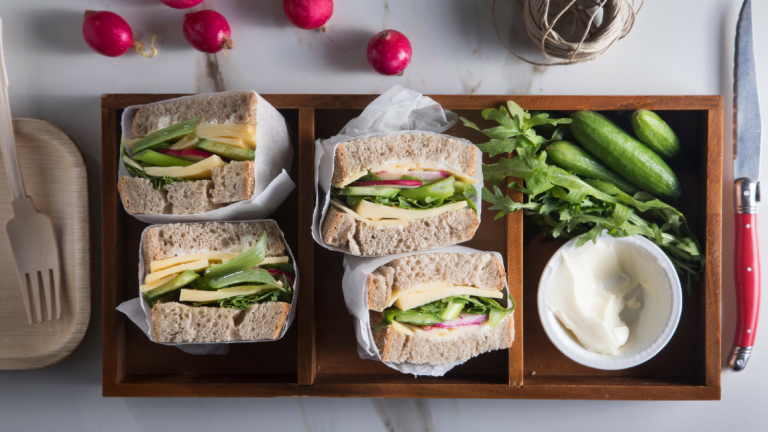 Sun, Sand and Sandwiches: How To Have Fun At The Beach
Growing up in Florida, I took the beach for granted. 
I lived less than 20 minutes away from the Atlantic Ocean and when people asked if I was near a beach, I said no.  Like old men in shorts wearing knee-high dress socks and dinner that starts at four in the afternoon, people think and act differently in Florida. In Florida, if you don't live close enough to walk to the beach, you only go when family or friends are in town to visit.
After living in New York and braving freezing cold winters, I finally learned to appreciate the beach.  I made sure to be especially nice to my friends with summer vacation homes and I strategically planned my visits to family in Florida around December.
But, every parent knows going to the shore is no day at the beach. Planning a day at the ocean is harder than preparing a tax return.  When my kids were very small I would spend half the day making sure they didn't eat the sand and the other half cleaning the sand off of them.  Luckily, as my kids grow older, things have gotten a little easier.  
Listening to the sound of the crashing waves, smelling the coconut-infused suntan lotion in the air and watching my children defy the laws of gravity with their sand castles makes it all worth the effort.
I can live with the sandstorm that follows us home in the car for what seems like weeks.  I can even grimace through the inevitable sunburn in the shape of a handprint.  But I can't tolerate being hungry! 
If you are "lucky", you can always buy food at the beach. Mediocre pizza, ice cream and hot dogs abound.  As you might expect, the choices are unhealthy and usually expensive.  
It's so much better to be a little more creative and plan ahead. I once brought bagels (good idea), but I forgot to have them pre-sliced (bad idea) and spread (very bad idea).  By the time we were ready to sit down to eat, I couldn't tell the sand from the sesame.
So, here we are with our Top 10 List for healthier, tastier, and cheaper ways to enjoy a day at the beach.
1)     When packing food for the beach, think food safety first. Stay away from anything with mayonnaise, eggs or milk – they don't last long in the heat.
2)     A cooler full of frozen water bottles will keep food and drinks cold for 3-4 hours and provide the water you will need all day.
3)     Bring juice boxes for the kids and water with a reclosable sports cap for the adults.  Although juice boxes tend to be high in sugar and many are low in juice, try to make a smart choice at the supermarket.  It is very important to keep kids well-hydrated.  I am partial to drink boxes because unlike my kids' tush, it is hard to get sand inside a drink box.
4)     The best foods for the beach are bite-sized. No plates, no cutlery.
5)     Embrace "No Sand" sandwiches.  You can put most anything into a pita and the pocket keeps the food from falling out the bottom.  Beach boys and girls love peanut butter and jelly or their favorite deli meat rolled-up in a whole wheat or flavored tortilla wrap.  Double wrap it by covering the wrap in plastic wrap to keep the sandwich inside and the sand outside.
6)     Keep sandwiches and snacks in separate ziplock bags so they stay fresh and you have a place to store whatever is left over.
7)     Our tasteful recommendations for the best of the beach: Albacore Artichoke Sandwich, Grilled Philly Cheese Mushroom Sandwich, Almond Butter Finger Sandwich, Vegetarian Sandwich, and a Roasted Chicken Wrap.  
Find all our Sandwich Recipes here. 
8)     Ride the wave of water-themed snacks. Whale crackers, fruit loops and cheerios (they look like life preservers), chips or pretzels with sea salt and pre-cut watermelon are always a favorite.
9)     Place tomatoes and condiments like mustard, ketchup and vinaigrette in between the dry ingredients to keep the bread from getting soggy.
10)  Remember wet wipes for sandy hands and a garbage bag for everything else.
With some advance planning and the right menu, a day at the beach is the perfect cure for the summertime blues.  
Follow these tips and we are shore you will have a great time!
Main image - Ultimate Israeli Sandwich