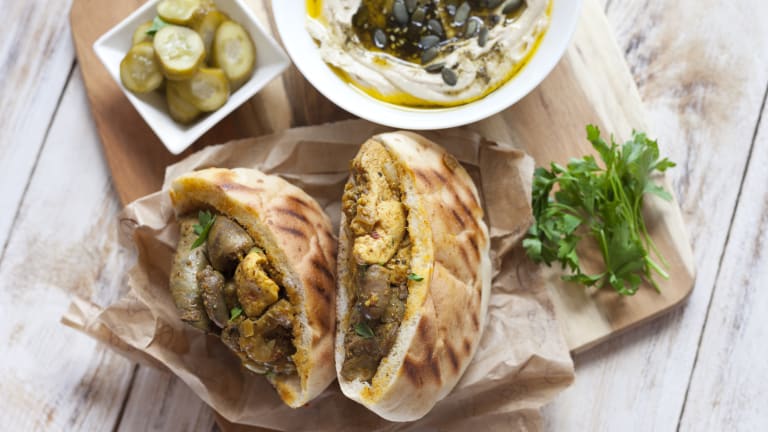 What Is Jerusalem Mixed Grill Seasoning and How To Use It?
Named for the city that's bursting with history and people from all walks of life, this combo of spices brings your meats and veggies (and soups and stews and grains and everything!) to life!
What is Jerusalem Mixed Grill? 
Jerusalem Mixed Grill or Me'orav Yerushalmi, is one of the quintessential street foods of Israel. Considered a specialty of Jerusalem, the holiest city on earth, it's said to have been invented in The Shuk, Machaneh Yehuda. Traditionally made up of a combo of liver, hearts, spleen and chicken thighs (don't fret if you can't stomach that mix of meats and organs), the dish, a national treasure, is mostly about the spices – the secret of everyone's infatuation.
Every little grill stand has its own version of this blend of spices, ours is a mix of turmeric, cumin, coriander, black pepper, sea salt, sweet paprika, sumac, and cinnamon to impart that classic, earthy, middle eastern flavor to everything you make (well maybe, except for dessert). 
Order Jamie Geller Jerusalem Mixed Grill on Amazon. 
What is the difference between your Jerusalem Mixed Grill and Shawarma blends? 
While both blends will make your foods yellow and can be used in many of the same ways, the Jerusalem Mixed Grill has sumac in the mix, giving the blend a hint of citrus and cinnamon to balance all the flavors.  
How do you cook with Jerusalem Mixed Grill?
You can try your hand at a version of the classic Mixed Grill with this recipe, either with the organ meats added or just a mix of dark meat and white meat chicken.  You can use to coat veggies or tofu before roasting or grilling. 
This blend is a great multipurpose spice blend to keep in your spice cabinet and change up your same old chicken, beef or veg. 
Do you want to taste Jerusalem? Try some of these recipes and let your tastebuds be your guide. 
Bring the Flavors of Jerusalem To Your Home With These Recipes