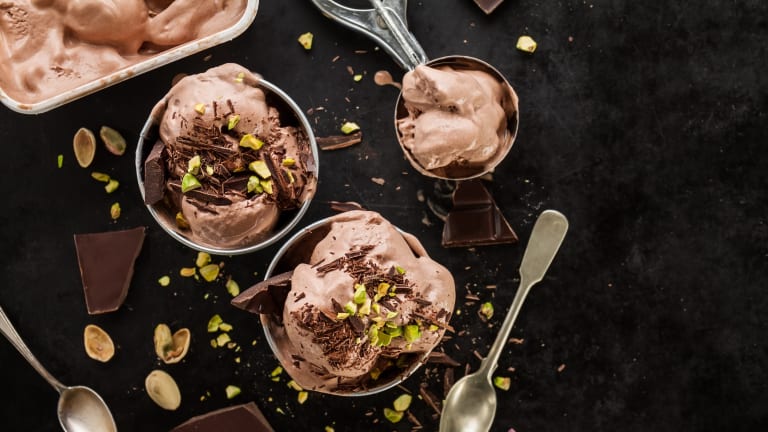 Which Ice Cream Machine Should You Buy?
When the lady behind the counter at the gelato shop rang up my order and it cost $25 for me and three children, I knew I only had two choices. Either get a job at an ice cream parlor, or buy my first ice cream maker. I've always been a fan of frozen desserts. Ice cream, gelato, frozen yogurt, sorbet, it doesn't matter. Once the temperature hits 85 degrees, I need something cold. This obsession was easy (and affordable) before I had kids, but now I have to share! At $5 for a cup or cone, it is survival of the fittest, and my kids know better than to get between me and mint chocolate chip. After ruling out a future of soft serve, single scoops and samples, I decided to buy an ice cream maker.
Now the tough part, which ice cream maker to buy? 
First, there is the old-fashioned hand crank style ice cream maker.  This is for the true Do-It-Yourselfers. 
I suppose some people need ice cream all the time, even during a power outage. Others like to go back to the basics. 
Play and Freeze Ice Cream Ball
This affordable ice cream maker is also a toy and the kids will have a blast rolling the ball around while they wait for their ice cream to churn inside. 
This old-fashioned manual ice cream maker is a little higher end but is made with high quality materials and results in premium ice cream that is hand cranked. 
These manual options were not really for me. Even if they claim to be fun for kids, mine would get cranky after one crank. 
The popular Cuisinart canister machines are under about $70, super easy to use, with great results in about 20 minutes. 
The gel canister ice cream maker must be pre-frozen, which requires some advance planning. However, it is affordable and can make some excellent ice cream. 
Finally, there are self-cooling machines that don't require pre-freezing, these are for the procrastinators or those that want to make ice cream every day. 
Need ice cream anytime, all the time, and on a whim? "This is the king of ice cream machines. It has its own compressor, so the bowl doesn't need to be stored in the freezer in advance, but, convenience comes at a price.
After reading reviews online, my decision came down to two different Cuisinart machines, the ICE-21 and the ICE-100. I liked the price and reviews of the ICE-21. The ICE-100 is a self-cooling machine which is capable of making batch after batch of ice cream without pre-freezing, very tempting... In the end, fate (and a 20% off coupon) brought me to Bed, Bath and Beyond where the last ICE-20 (the previous model to the ICE-21) was on closeout for only $25 – the very same price as my gelato tab a few days earlier. This was a no-brainer, I bought it!
My first try was a simple ice cream. The main difference between ice cream and other frozen desserts is the fat content. By law, ice cream must contain at least 10% milk fat. Premium and super-premium ice cream contain even more fat. As a dietitian, I couldn't bring myself to use heavy cream, so I've tried some lighter alternatives. Ceylon Cinnamon Ice Cream is rich in texture and flavor, but by using half and half in place of heavy cream, I've cut the fat by almost 70%!
I was now ready to go for gelato. Gelato is characterized by an intense flavor and served semi-frozen. It is generally denser than ice cream and has more milk than cream, which makes it naturally lower in fat. The recipe I tried comes from southern Italy, where they use cornstarch instead of egg yolks as a thickening agent. My first Chocolate Gelato was a sweet success!
Remember when froyo was all the rage? When TCBY seemed to grow on every street corner like a Starbucks? I never stopped loving a nice tart frozen yogurt that is 100% natural, has no artificial flavors or preservatives, and is rich in probiotics, calcium and protein. It's naturally tart and can be enjoyed any time of day, even for breakfast!
With my ice cream maker, I don't need to buy frozen yogurt anymore, I can now make it at home in under 30 minutes. I made a delicious low-fat Vanilla Frozen Yogurt using store-bought yogurt. I also experimented with a Tart Pomegranate Frozen Yogurt, that my kids love.
A Shabbat meal in the summertime is not complete without a frozen dessert. Sorbet is a naturally pareve, frozen puree of fruit and sugar. 
The better the fruit, the better the sorbet, so choose fresh, in-season fruit like strawberry, watermelon, mango, and raspberry. Having agave nectar or simple syrup on hand will allow you to skip the step of dissolving sugar in water. For an extra smooth consistency, some experts recommend adding a tablespoon of vodka. Serve in a martini glass with a sprig of mint for a classy ending to your meal.
Looking for a rich creamy dessert that is also pareve? Try using instant pudding mix for a two-step pareve ice cream that may lure all the neighborhood kids to your Shabbos table. If you don't like the idea of instant pudding, try a pareve Banana Coconut Ice Cream using coconut milk. I've found the higher fat content and smoothness of coconut milk works better than soy milk in most recipes, and the subtle coconut flavor won't overwhelm your other ingredients.
Like all things homemade, ice cream is best straight out of the machine. It can be frozen in an airtight container and can stay fresh for 2-3 days. If you are looking to keep ice cream on hand for more than a few days, it is best to go with a store-bought variety. 
If you still have an ice cream maker sitting in a gift box from your wedding, now is the time to bust it open. 
In just a few short weeks experimenting with my ice cream maker, I've managed to make my own homemade ice cream, gelato, sorbet and frozen yogurt. I also discovered that an ice cream maker is able to keep my kids attention almost as long as TikTok. Time to get freezing.
You'll Love Your Ice Cream Machine!