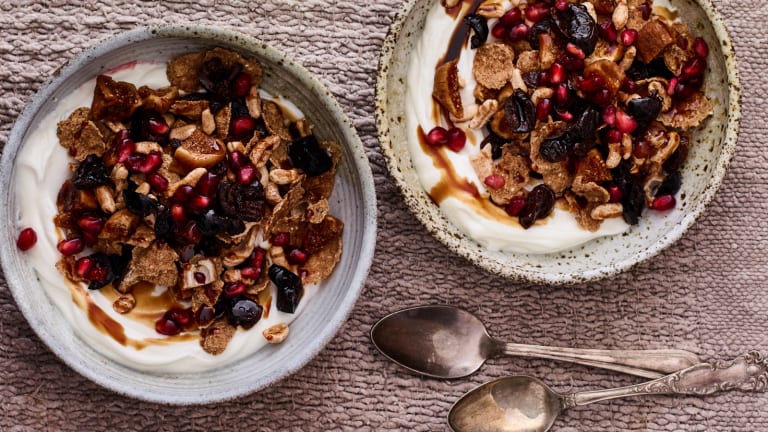 5 Rules To Having an Easier Fast
The two biggest fasts in the Jewish calendar are about 2 months apart.  I sometimes feel like all the shorter fasts are just to keep us in fasting shape and then Tisha B'av, which lands in the heat of the Summer, gets us ready for Yom Kippur, when it should be a little cooler depending where you live.  Either way everyone is always looking for tips and tricks on how to get through the fast as easily as possible.  
Several years ago I shared my Fasting Tips with a Pre Fast Dairy Menu, but today I want to share my pre fasting RULES, these are not just tips, but actual mandates.  If you follow along you will have an easier fast.
1.  Water, Water, Pants on Fire
Drinking lots of water is important before any fast, but on Tisha B'av it is a must.  In most parts of the world Tisha B'av falls on one of the hottest days of Summer and we are not as likely to be in an air conditioned synagogue all day like on Yom Kippur.  So drink up all through the day before the fast, don't save it for the end when you need some space for food too. 
2. Get Your Protein 
Most people do actually get more than enough protein in their diet to sustain them, without even trying.  Still the day before a fast it is important that every meal has a good amount of lean protein such as chicken, turkey, eggs, and fish.  
3. Carbohydrates Are Good For You
Sometimes I think I am the only person left eating carbs, but truth be told most Dietitians eat carbs, we just focus on the good ones, which usually means the brown ones. To really keep you sustained through the fast you need to have carbs in your pre fast meal, ideally choose grains that are high in fiber to keep you fuller longer.  I love barley, but you can also go with a mix of grains if you prefer.  
MORE: 5 Best Foods To Eat Before a Fast
4. Eat Healthy Fats
The day before the fast is a great time to get your nuts, use your olive oil, and eat your avocados.  Good healthy fats will really help keep you going during the fast, just stay away from anything too salty, stick to unsalted nuts and seeds. 
5. Avoid Added Sugar
The worst thing you can do before a fast is eat anything that is around, donuts, candy, cakes and cookies will not help you. Just because you won't be eating for a day is not an excuse or reason to eat all the junk you try and usually avoid.  If you want something sweet sticke with fresh fruit, bananas and dates are particularly good before and after a fast. 
Now that you know the rules, here is my suggestion for your meals the day before the fast. 
Start with filling breakfast bowl of grains and nuts and fruits over yogurt.  
Enjoy some tuna sandwiches on whole grain rye or pumpernickel bread.  
SPINACH LAMB AND LEEK SLOW COOKER STEW OR BARLEY LENTIL VEGETABLE SOUP
For dinner I recommend a one pot meal you can set up earlier in the day, like this stew, it has everything you need including some extra fluids.  If you don't eat meat at this meal, try the soup version. 
This way you also have time and space for the traditional Seudah Hamafseket. 
You can actually stuff dates with anything from almonds to walnuts and it just dresses them up for a sweet way to end your meal, but if you need something that looks more like dessert try these Snack Balls.