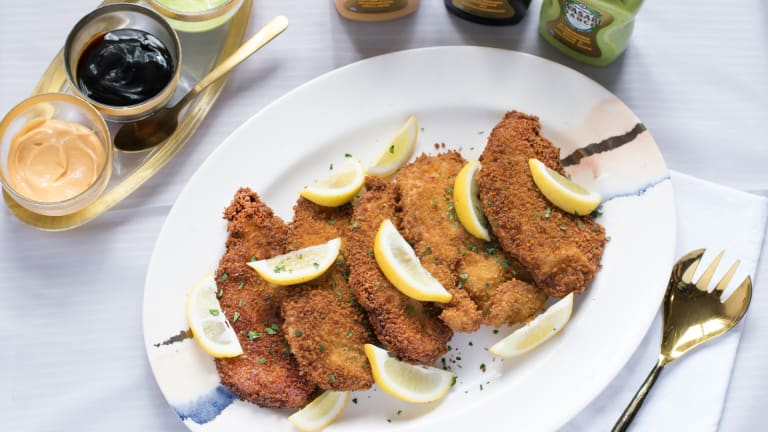 Shabbat Menu - Water, Water Everywhere
In parshat Beshalach time is running out. Pharaoh and his army are chasing after the Israelites and they stop at the edge of the Red Sea.  There is no place left to go.  After witnessing the miraculous signs and wonders that brought Egypt to its knees, fear and doubt begin to consume the former slaves.  After Hashem chastises Moses for timidity in the face of adversity, Moses bravely raises his hands. The waters split and we cross a free people, while Pharaoh and his army drown in the sea. This parsha is all about water – an element bringing salvation and destruction.  As the Israelites continue in the desert, bitter waters are transformed and made potable.  Then later, hunger and thirst overtake the Jews and their complaints lead Moses to strike the rock, a transgression that will ultimately cost him a chance to lead the Jews to the Promised Land.  
With this week's Shabbat menu, we celebrate water, but we don't forget to include a little bitterness, a reminder of our journey a long time ago.
This recipe was given to us from Neomi Gniwisch who got it from Sara Maybergs who got it from Mrs. Schwartz...
There's nothing like a warm comforting soup on a cold winter night.  Perfect for a full Shabbat meal or a first course.  Don't forget the slightly bitter watercress.
Keep your main course simple with schnitzel, but change it up a bit with these Asian flavors. 
Kale is filled with vitamins and minerals and fiber and is the ultimate superfood. My kids happen to love it so it has become our go-to vegetable of choice. Simply sauteed like this is the easiest way to go.  
BITTERSWEET CHOCOLATE WALNUT MACAROON COOKIES
Click here for past years' Beshalach Menus.
Want stories like this delivered right to your inbox? Sign up now for our *free* Jamie Geller Newsletter.