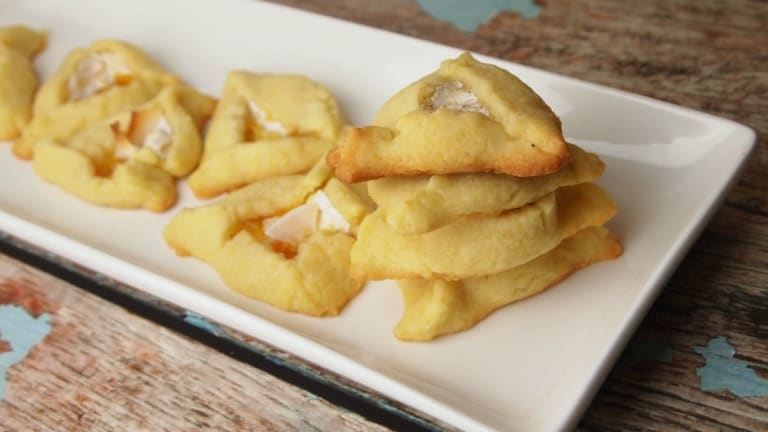 Aloha! Have a Hawaiian Purim *Customize Your Free Purim Cards*
In Hawai'i, the word aloha means hello, goodbye, and love. This Purim, when you greet your guests, you can say aloha in addition to shalom, as you offer them a lei and a Coconut Ambrosia Hamantaschen (see below). 
In fact, get the whole family involved: All you need are Hawaiian shirts, sunglasses, leis or flower necklaces, and a laid back fun-in-the-sun attitude. If you're feeling creative, you can also put together grass skirts with ribbons or streamers.  
Below you will find some great Hawaiian inspired recipes for your Purim meal as well as mishloach manot. And don't forget to print out our nifty Aloha Happy Purim cards, to decorate with your own photos and message!
MAKE YOUR OWN: You can print and personalize your own Aloha Happy Purim cards with these fun designs
Try these recipes for a real taste of Hawai'i this Purim:
Starters
For the grown-ups among us, try this absolutely delish Piña Colada Smoothie. Get yourself a cocktail umbrella, don your Ray Bans and hit the beach. For a parve version, use non-dairy yogurt.  
SEARED TUNA WITH PINEAPPLE SALSA AND BALSAMIC REDUCTION
Searing the tuna makes the tuna look and taste amazing. The pineapple salsa adds just the right burst of flavor and color to compliment the tuna. When plated, this dish looks like artwork. 
Main Dishes
Shoyu is an Asian term for soy sauce. You will always find Shoyu Chicken simmering away on "Aunties" stove or at any given luau, it's just a given. Boneless chicken thighs are simmered with flavors of soy, ginger and brown sugar, just long enough to fall apart at forks touch. You need to enjoy this with rice, as this is a typical staple of the islands.   
Grilled sweet and juicy pineapple is great in savory dishes—especially paired with meats like hot dogs, chicken, and burgers.  
Side Dishes
Keep it light and exciting with this Tropical Slaw, get some pineapples and mangos and liven things up.    
Don't be scared by the term "fried." As you can tell from the low amount of oil needed, it simply refers to the method of sautéing the rice with the vegetables in a wok or sauté pan.  
Desserts
MALASADAS
Malasadas are Portuguese fried doughnuts and are a favorite for both the locals and tourists of Hawai'i.    
In this recipe, coconut was added to classic hamantashen dough and then filled with a mix of orange marmalade and marshmallow fluff for Hawaiian inspired hamantashen. If you like you can even add a maraschino cherry .      
Want stories like this delivered right to your inbox? Sign up now for our *free* JOY of KOSHER Newsletter.