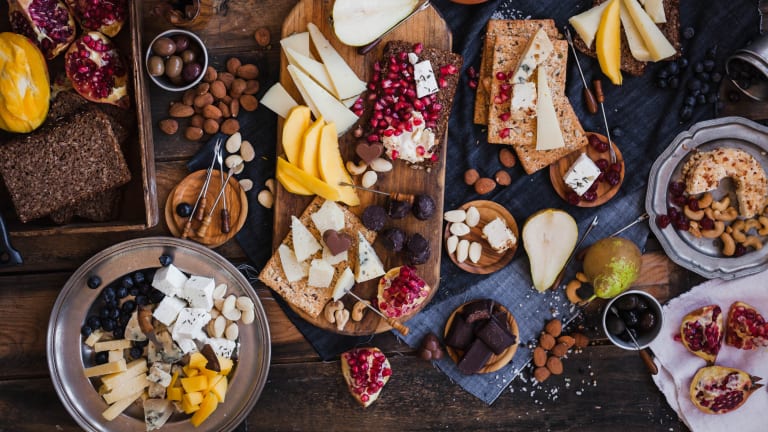 Celebrate Tu B'Shvat
In honor of the holiday of Tu B'Shvat we thought we'd share with you some of our favorite Tu B'Shvat posts and recipes ever.  Now all you have to do is choose how you want to celebrate. 
Tu B'Shvat starts on Sunday night January 16 and continues through to sunset Monday, January 17th.
Tu Bishvat seders are en vogue these days, really! 
Four cups of wine are served up just like a Passover seder, but that is where the similarities end.  On Tu Bishvat we eat foods made from the seven species (wheat, barley, grapes, figs, pomegranates, olives, and dates) and other uncommon fruits.  It's a great time to try something new and a Tu B'Shvat seder is a wonderful way to celebrate this unique holiday.  Bonus, you can make your own rules!!  Learn more about how to host a Tu Bishvat Seder here. 
In celebration of the "The New Year for the Trees", it is customary both to eat and cook with the fruits of nature, literally fruit and nuts, the center of most Tu B'Shvat tables and feasts. This seems, however, to overlook the gifts that the tree itself can provide! The bark of one tree is actually edible, has become commonplace in both its whole and ground forms, and is indispensable in both our sweet and savory culinary creations. Which bark am I referring to? Click to read more and get some new recipes. 
Tu B'Shevat was way ahead of its time.  It is the first Earth Day.  The birthday of the trees.  Although the rituals most closely identified with Tu B'Shevat originated in the 16th century, it is even more relevant today as we try to embrace our role as stewards of the planet. Over the past century, Tu B'Shevat has been closely associated with the environmental movement.  Many celebrate by planting trees in Israel in honor of loved ones and focusing on environmental projects like committing to reducing, reusing and recycling more in the coming year. 
No matter what day of the week it falls, you can always find a way to serve an elaborate cheese course on Tu Bishvat. Delicious cheese is the perfect companion to all the 7 species and can be eaten any time of day.  
Laurie Bellet, an art specialist at Oakland Hebrew Day School, loves when Tu Bishvat rolls around. Besides the dried fruits and nuts, she uses this opportunity to fuse crafting and nature. "Tu Bishvat crafts are a wonderful ways to help kids to get in tune to God and the natural world," says Bellet. "When you look at a tree, it's so easy to form a simplistic mental image of it. But really, there are many individual elements to a tree, leaf or flower. It takes real focus to understand the different components." 
What do you do on Tu Bishvat?