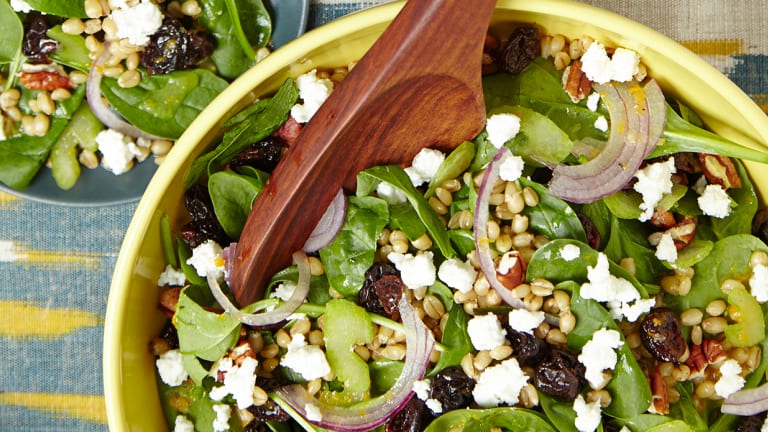 Celebrate Tu B'Shvat - Seder Style!
Tu B'Shvat higia is the refrain of the popular Israeli children's song, meaning, Tu B'Shvat is here, YAY!
This holiday celebrates the "rebirth" of the trees. Tu B'Shvat marks the beginning of the slow process when the trees begin blossoming and flowering with new life and new fruit.
Some have the tradition to eat something from all of the seven species – wheat, barley, grapes, figs, pomegranates, olives, and dates – that have a special significance in Judaism.
You know how on Pesach we sit down to a seder? 
Well, there is a Tu B'Shvat seder too! Tu B'Shvat seders are uber en vogue these days, really! Four cups of wine are also served up, along with foods made from the seven species and other uncommon fruits. A Tu B'Shvat seder is a wonderful way to celebrate this holiday – and you can make your own rules!!
In 16th century Safed, Kabbalists (Jewish mystics) jazzed up the holiday of Tu B'Shevat by creating a special seder, reminiscent of the Pesach seder with its order and rituals, but with a different focus. The purpose of the Tu B'Shevat seder is to express appreciation for nature and recognize the miracle of Hashem's role in creation. Just like at Passover, there are four cups of wine at a Tu B'Shevat seder. But the color of the wine changes throughout the seder, going from white to rosé to red, symbolizing the changing seasons. 
There should be many different kinds of fruit at the seder, beginning with one that is hard on the outside and soft on the inside, such as walnuts, coconuts or almonds. The hard shell symbolizes the protection that the earth gives us and reminds us to nourish the strength and healing power of our own bodies.
The second fruit is soft with a pit in the center, for example, olives or dates, and symbolizes the life-sustaining power that emanates from the earth. It reminds us of the spiritual and emotional strength that is in each of us.
The third fruit is soft throughout and is completely edible, such as figs, grapes and raisins, there are no barriers or limits to these simple gifts. By saying blessings and partaking in many kinds of fruits, we thank Hashem for renewed life. We honor the land of Israel by enjoying her fruits.
Since there is no set ritual or liturgy, many creative and modern interpretations can be found on and offline. For inspiration, keep reading for some recipe ideas to make at your Tu Bishvat seder. 
BIBLICALLY-INSPIRED SALAD DU JOUR
This "Biblically Inspired Salad du Jour" incorporates each of the seven species and is sure to please the palate. 
Veal Stew with Apricots and Prunes
Cooking with fruit is the way to go on this holiday – so how about sweetening your main with my Veal Stew with Apricots and Prunes? 
Serve up the stew with a side of Bulgur with Carrots, Nuts and Dates to continue the seven species theme. 
And wrap it all up with this delish Maple Walnut Chiffon Cake which incorporates dates (part of those sevens species) and my new recipe for White Chocolate Bark. This one combines raisins, dried figs (another one of the seven), nuts and chocolate, into an elegant and tasty treat.
Make sure to also serve up a lovely platter of dried fruit and nuts at your Tu'Bshvat Seder.
Some other dishes sure to add both significance and enjoyment to your Tu B'Shvat meal: