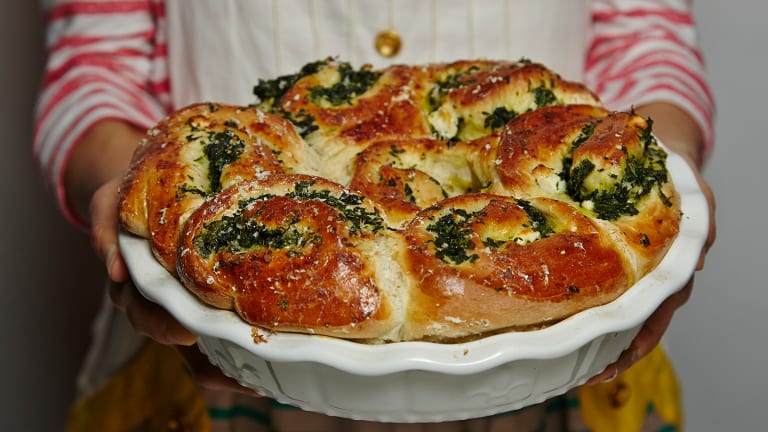 Delight in Delicious Dairy Challah For Shavuot
The Perfect Challah for Shavuot
Most people I know look forward to the traditional foods of Rosh Hashanah, Chanukah, and Passover each year. But I relish Shavuot, not only for the story of Ruth, but also for the chance to delight in eating dairy. 
As a baker, I always want to be surrounded by heavy cream and mounds of butter, and Shavuot really lets me get fun and crazy with some of my favorite ingredients. Let's be honest though: Challah and dairy can be a bit heavy, especially as the weather warms up. So I set out to dream up a challah recipe with a little less density and richness for this warm weather holiday; both of these recipes will yield lightness without sacrificing flavor. 
With the Spinach-Feta Pull-Apart Challah, the dough gets infused with garlic and oregano, while lemon adds freshness to the cheesy spinach filling. These pull-apart rolls will fly off your table, especially if served slightly warm. 
Strawberry and rhubarb season is one of the most colorful and delicious times of year, and a compound butter made with these seasonal items is a great way to take advantage both of early summer produce and Shavuot. If Oat Bran Challah sounds like it will taste too healthy to enjoy, think again. This challah is light and sweet but still packed with a healthy punch of oat bran and flaxseed. So you can spread a little more of that Strawberry Rhubarb Butter on top without guilt. Please note: You want to avoid adding too much flour as you knead the oat bran challah, or else you will end up with a challah that is too dense.
The 411 on Dairy Challah
There are many halachos surrounding the baking of bread and challah, and one of those halachos is that bread should always be pareve. There are some exceptions to this rule, however.
When making dairy challah, one should only prepare enough for one meal.
Cheese may be put on top of the challah, where it would be clearly seen.
If one wants to add dairy ingredients in the actual dough (milk, butter, cheese), then the bread or challah must be shaped differently from typical bread or challah.
It is permissible to serve butter with a pareve or dairy challah at the Shavuos meal, but keep in mind that one cannot serve butter with a challah that was baked in a fleishig (meat) oven. For more info, check out www.ok.org.
SPINACH AND FETA STUFFED CHALLAH
This cheesey Spinach and Feta Stuffed Challah is delicious served warm with any dairy meal, especially for a Shavuot treat.    
MORE: How to Shape and Stuff Round Honey Challah
This Oat Bran Challah is a healthy a tatsy addition to any holiday or Shabbat table, and pairs perfectly with Strawberry Rhubarb Butter (below).   
MORE: 10 Challah Dough Hacks
  This yummy dairy spread pairs perfectly with your challah.  
Want stories like this delivered right to your inbox? Sign up now for our *free* JOY of KOSHER Newsletter.