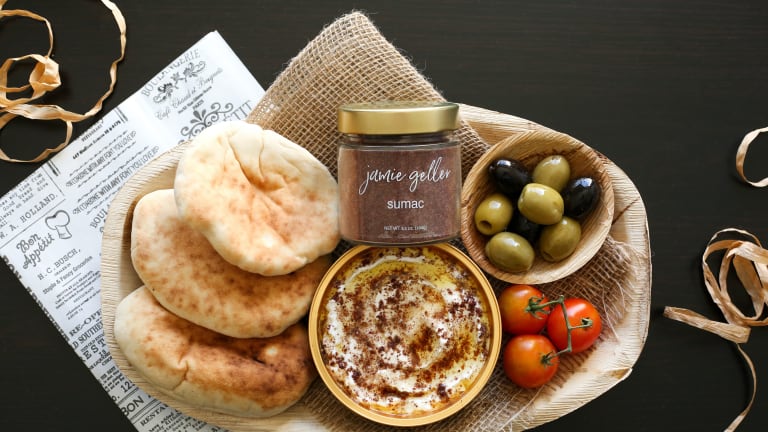 5 Easy "Spicy" Israeli Themed Mishloach Manot
I just couldn't help myself... This year for Purim we are dressing up as the Real Spice Girls (and Guys). I'm infusing my menu (every single recipe, from beginning to end - including sweet treats and drinks!) with my new spice collection. Plus!!!! We put together 5 easy mishloach manot ideas that I hope will inspire you to share your love for the warm, sunny, bright, cozy, earthy and familiar flavors of Israel with your friends and family.
Coffee and Cookies
Hawaij for Coffee is a blend of ground ginger, cloves, cinnamon, and cardamom.   The Yemenite blend is often stirred into Turkish coffee, but I love it mixed into my instant coffee or brewed with my grinds.  Learn more about Hawaij for Coffee and how to add it to your coffee here.   It also happens to be delicious when added to baked goods, like hamantaschen.  
To make this mishloach manot we filled a bottle with iced coffee infused with Hawaij for Coffee and placed it in a box filled with shredded paper.  We placed our hamantaschen in mini burlap bags and wrapped the whole thing up in burlap, tied with a ribbon. 
Another way to go with Hawaij for Coffee is to skip the bottle of iced coffee and send a mug with instant coffee.  You can send the Hawaij for Coffee Hamantaschen or go with store-bought cookies. 
Hummus and Pita Chips
One of my favorite ways to use Za'atar is with hummus and pita chips and it makes the best gift package. You can make this one super easy by simply giving a package of store-bought hummus, a bag of pita chips, and a jar of Jamie Geller Za'atar or you can make it at home.  Package homemade hummus with a drizzle of olive oil and a sprinkle of za'atar in a glass or plastic container with a gold lid and place your home-made spiced pita chips in another container. Wrap the whole thing in cheesecloth.   I love that the pita chips are triangle shape like hamantaschen. 
Labaneh and Laffa (or pita)
Labneh is a strained yogurt that is a bit thicker than Greek yogurt and very similar to cream cheese, but with more tang and less fat.  It is delicious simply served with a drizzle of olive oil a sprinkle of sumac and pita or laffa to dip.  Sumac is a versatile, citrusy spice that adds a bright, vibrant purple-red color and tangy, lemony taste to everything you pair it with.  Make this Mishloach Manot with by combining a jar of Jamie Geller Sumac with fresh pita, a bowl of labneh, fresh olives and some cucumbers and tomatoes.  Place everything on a bamboo tray and wrap with burlap. 
Israeli Grilled Cheese
Once you try harissa on your grilled cheese sandwich you will never be able to go without.  For this mishloach manot you can package all the ingredients for a bread and cheese sandwich that can either be eaten cold or grilled to perfection.  Place a jar of Jamie Geller Harissa in a box with a few slices of bread wrapped in a paper bag, a package of sliced cheese, some tomatoes, and a bottle of olive oil.  Instruct your friends to mix up the harissa with the olive oil and spread on the bread before topping with cheese, tomatoes and another slice of bread.