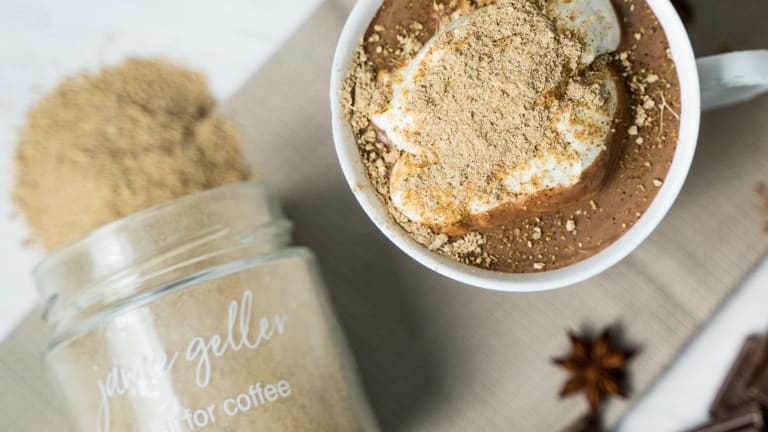 How To Use Hawaij for Coffee
How about a pick-me-up for your morning pick-me-up?
If you're in the market for a seriously life-changing cup of coffee, the stuff sweet dreams are made of… then Hawaij for Coffee is the spice blend you never knew your soul needed.
Hawaij for Coffee was part of my long-standing spice dream and the 2nd most important, exotic, authentic, hard to find (and most popular after za'atar) drop in the spice collection. This careful, delicate and perfectly balanced blend of cardamom, ginger, cinnamon and cloves is a delicious Yemenite tradition as old as coffee itself. 
Hawaij for Coffee enhances the flavors of coffee, whether brewed in the traditional Turkish Ibrik, espresso, or in a latte. Also divine baked into cakes, cookies, crisps, crumbles, warm compotes and more with notes and aromas that will make you murmur 'mashallah' (as you close your eyes and travel to distant lands).
As a general rule of thumb any recipe that calls for pumpkin or chai spice can be swapped for Hawaij for Coffee (in equal parts) for a more elegant, sophisticated sweet and (gingery) spicey note.
But I fall back to its original intention and fall asleep dreaming about my morning Hawaij for Coffee hug in my mug.
Are you ready to try it? (Have you ever tried it?) Here's a quick guide on how to add to your morning cup of joe.  Order Jamie Geller Hawaij for Coffee here. 
If you brew your coffee with a filter or french press: 
Add 1 teaspoon Hawaij for Coffee per cup to the coffee grinds before brewing.  The flavor will infuse the coffee and any of the coarse grains will be filtered out with the coffee grounds. 
If you have a single-serve pod style coffee maker: 
Add 1 teaspoon Hawaij for Coffee to the bottom of a glass measuring cup with sugar if using.  Brew coffee into prepared cup and stir well.  Strain coffee through a small fine mesh sieve into drinking mug.  If using milk, we recommend heating the milk a drop before adding to the coffee to counteract some of the cooling effects of the straining. 
If you use instant coffee: 
Combine 1 tablespoon instant coffee with 1½ teaspoons Hawaij for Coffee.  Add just enough boiling water to cover and stir well.  Let steep for 5 minutes.  Meanwhile, prepare a large cup of hot water or milk if you prefer it latte style.  When coffee concentrate is ready pour into the hot water or milk using a sieve to keep out any unwanted grit.  Add any sweetener if desired.  Note, you can skip the straining step, but I like a more elegant refined cup with no grit. 
Watch me make my morning cup here. 
If you have an espresso machine: 
Add 1 teaspoon Hawaij for Coffee to espresso grinds for one shot before placing in the machine to brew.  Watch how it's done here.  If you make a cappuccino don't forget to sprinkle some extra over top.
Now that we got our coffee fix, here are some delicious ways to add Hawaij for Coffee to all your favorite recipes. 
How To Use Hawaij for Coffee in Everything But Coffee