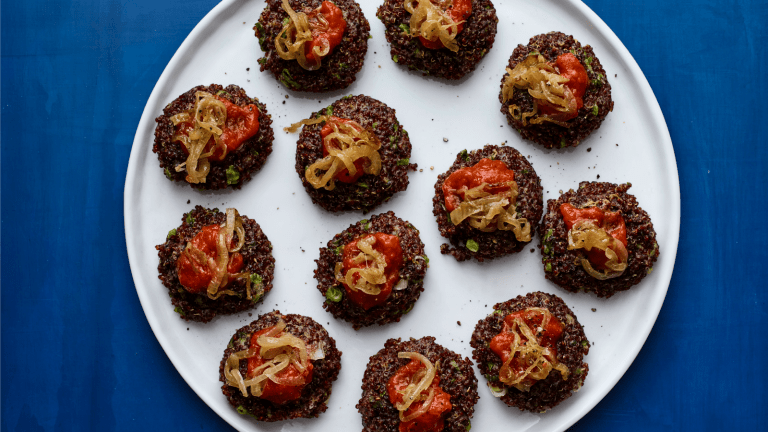 Easy, Low Carb, Seudah Shlishit, -Third Meal-, Recipes
Whereas the end of the Sabbath once arrived while we were still groggy from our naps and surfeited from second meal, we now find we can't make it to sundown without some stirrings of hunger. That's where third meal comes in.
The third Shabbat meal, aka Seduah Shlishit, is one of the most challenging. Between cooking for Shabbat dinner and lunch, eating a heavier lunch than usual, and not being able to reheat food leave us with limited options for the third Shabbat meal (or dinner) that becomes an issue during the long Shabbat days of the summer.
This time of year when the days are so long and hot you really need to think about what to make for the third meal on Shabbat. The meal that comes before the end of Shabbat. 
Related: 18 More Seudah Shlishit Recipes
Not the heavy, meat-laden, many-coursed repasts we enjoy at first and second meals, third meal is a lighter, more casual affair. There is the obligatory challah, but we can now accompany the bread with simple cold salads based on vegetables, grains, eggs, or fish. The long gap between second and third meals means we may also be past the maximum 6-hour wait between meat and milk and can have a dairy meal, if we like.
Hot weather turns our thoughts to the regional foods of warmer climes like Provence, Sicily, or Turkey. A little chili spice, the acid spark of vinegar or tomatoes, and the smokiness of grilled vegetables helps soothe jaded palates as the weather wears on, growing hotter by the day. You can toss something together just before the meal, or you can make it all ahead on Friday so there's nothing to do on Shabbat but relax and enjoy the meal. 
Long and hot summer days call for a light and refreshing seudah shlishit. Instead of putting out a huge spread, serve salad bars or DIY meals.  Customizing dishes always makes for some excitement and gets kids eating much faster and healthier too. 
The following dishes work great as anytime meals that can be made in advance, stored in the fridge and serve chilled or at room temperature.
A wonderful, superb, and excellent way to serve avocados and tuna for that matter. Low-cal, low-carb, high style.  
While tuna is the most common cold fish for third meal and can even be prepared without any advance planning, any type of cold fish can work at this meal and there are lots of options to stuff an avocado for a fancier presentation.  
Ceviche is typically made from fresh raw fish marinated in citrus juices such as lemon or lime and spiced with chili peppers, but you can make it with any fish and change the flavors to anything from Spanish to Asian.  Try the above recipe for Salmon Ceviche or this Tilapia Ceviche with Mango.  Serve with tortilla chips, salsa and guacamole or stuffed in an avocado. 
If you still want meat, at least keep it light and cold.  A charcuterie board is an easy way to impress family and guests for any gathering.  
These gluten-free patties are a wonderful base for almost any topping. 
Use high protein pasta or halve the amount of pasta and double the chicken to make this meal low carb. 
Maybe you want to keep it vegetarian after all that meat you spent so much money on. Tofu is a fantastic, versatile ingredient.  This salad typically calls for feta but tofu is a great sub. 
This concept is really fun and easily customizable to the ingredients you have on hand.   A perfect DIY meal for everyone. 
Imitation crab meat, also called Kani, is what kosher sushi chefs use for Japanese rolls and recipes that call for crab and is made from a variety of cooked white fish. It can be found in the freezer section of your kosher supermarket.  
If you like your tuna and egg salad routine, but just want an easy exchange, try Mock Crab Salad either in lettuce wraps or on a bun. 
To change up your normal egg salad, make deviled eggs, click here for assorted recipes. 
This brightly-colored Provencal dish calls for just five ingredients. Use best quality olive oil and feel free to dip your challah in the delicious juices left on the plate. Serve with flaked tuna dressed with more of that good olive oil and brightened with a healthy spritz of lemon juice and some cracked black pepper.
A bit labor-intensive, the flavors of this Italian-style potato salad, Insalata Di Patate e Fagiolini, are so addictive, you won't mind the extra work. Give the salad plenty of time to come to room temperature before serving.
When it's too hot to cook, make this no-cook Turkish tomato bulgur salad. Your kitchen stays cool and you get to eat this delicious salad.
Take advantage of two of summer's most amazing and delicious bounties — fresh wild salmon (or halibut) and summer produce. Easy to put together and make the day before, serve chilled or at room temperature.
I love the versatility of a quiche. It is a good Shabbat type of dish. I love cool summer foods that don't heat up the house or weigh me down all day. The basic quiche formula is linked and makes 2 pies. Feel free to change the recipe as the season changes and the produce inspires you.
A clafoutis (a French baked pancake) celebrates cherries, one of the best parts of summer.
No fuss and plenty of seasonal delicious fruit in every bite. 
Finally, if you have your blech on anyways and your family demands hot food, we love Empanadas
Make them with veggie meat or chopped mushrooms or even spinach for non-meat options and serve with a cold soup. 
What do you like to serve for third meal?