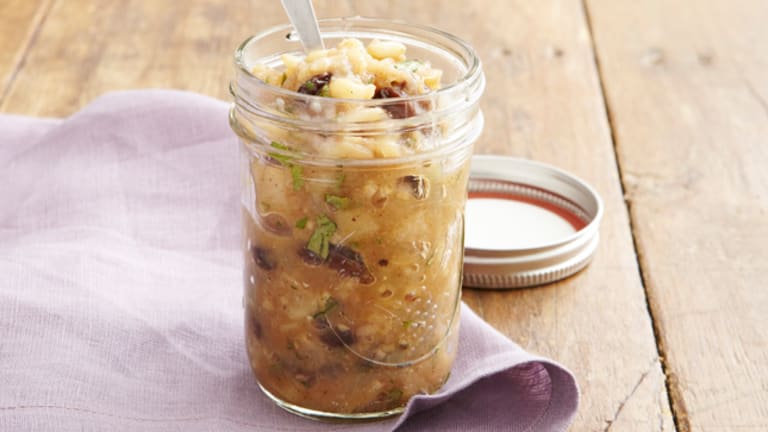 Jams, Salsas and Chutneys
Jams, salsas and chutneys add zing to even the most boring foods. Though they originated in different parts of the world (England, Mexico and India respectively), they are all essentially sauces made from fruits, vegetables or herbs and/or spices. It seems that in every culture there's a need to spice up food with something gooey. They all belong to the same family, so to speak – and I love family (even more than I love food).
I know it's probably not proper to eat them by the spoonful in public, but it's certainly one of the Forbidden Pleasures of Life for those of us who dare. If you are a traditionalist, you can primly dip and spread them to your heart's content.
The most simple of jams can dress up a scone, a piece of toast, or even sweeten some matzo brei. A traditional PB&J sandwich can taste different every time, depending on the jam you use. Think peanut butter and marmalade. Hey, don't knock it 'til you try it!
For Purim, I shared a recipe for Homemade Mixed Berry Jam and it was a huge hit. At the time, I made a mental note to make more of these and share them with you this spring! 
 So here goes -- from my kitchen (and my heart) to yours -- my new favorite jam: Orange Vanilla Marmalade.
Since we are working with the jam-salsa-chutney family (there I go again!), let's think outside that jar. Salsa, along with chutney, can add such wonderful taste to a simple piece of grilled chicken or fish. My Pear Chutney adds some sweetness just when you need it, while my Spicy Eggplant Salsa adds a deep, hot flavor to any dish -- and it's perf as a dip or with chips.
This jam uses vodka for a real change, you can use it on anything from toast to chicken. 
Some other Chutneys and Salsas to try:
• Papaya Avocado Salsa
• Sweet Chutney
• Spring Onion Chutney
• Cranberry Pear Chutney