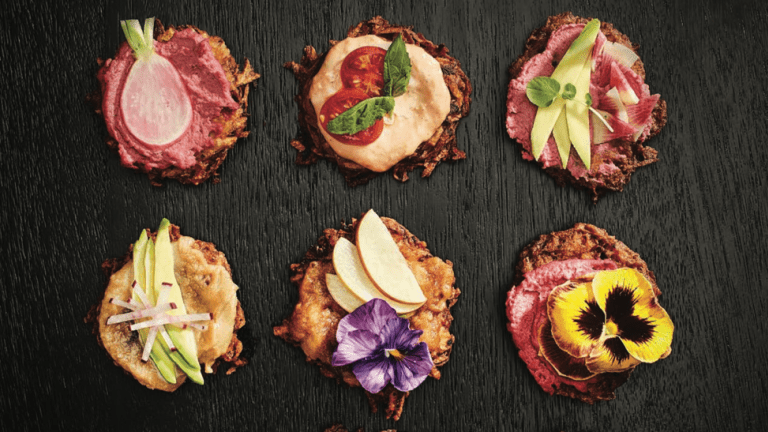 Hanukkah Appetizers and Starters
On Hanukkah, it's all about the oil when it comes to food customs. To celebrate the miracle of the oil that burned in the Holy Temple in Jerusalem, we like to fry.  
The most traditional Hanukkah staples are latkes and sufganiyot.  Latkes can be made from cheese or any combination of vegetables with a favorite being from potato. Sufganiyot can be filled with jelly or your favorite custard and topped with everything from powdered sugar to caramel.  But don't let these staples stop you, we can take a taste from every cuisine for our Hanukkah celebrations.  Browse below to find all sorts of fried goodies to serve at your parties. 
It all starts with the latke and we have Over 100 Latke Recipes!!!  From different flavors to different vegetables to different toppings, the latke is the most versatile of all. 
EGG ROLLS
We love to fry other fun foods, check out 11 Types of Egg Rolls.  From savory to traditional Asian to a sweet dessert, egg rolls are another fried favorite. 
TEMPURA
Tempura is the Japanese way to fry and there are many ways to enjoy it.  Check out 6 Ways To Tempura.  Similar to tempura but with a different flavor is Italian Fritto Misto
SAVORY DOUGHNUTS
Doughnuts don't have to be dessert, try these Caramelized Corn, Thyme and Onion Donut Holes for sweet and savory surprise. 
There are more than 9 ways to fry a chicken, pick your favorite, sure these could be a main, but they can also be great finger lickin' pass around food.
You can also try fried risotto balls, beer-battered fried pickles, fried blintzes and so much more. What's your favorite Hanukkah starter?