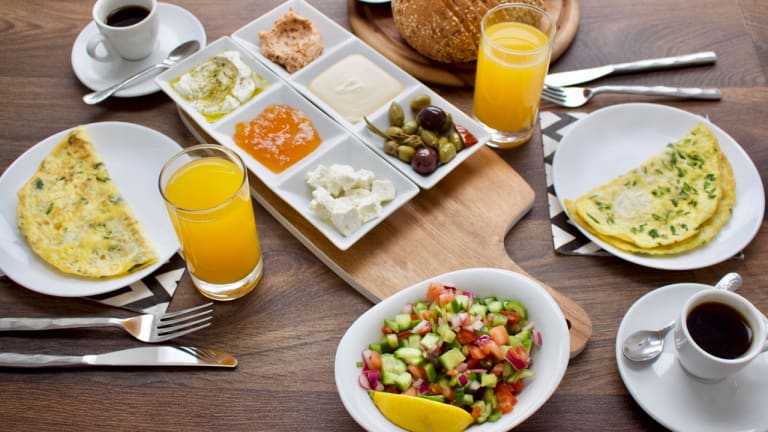 In Honor of Israel's Independence Day Let's Eat Breakfast
When you get the chance to visit Israel, our advice is to eat breakfast. 
If you can eat only one meal in Israel, choose breakfast. Preferably at a kibbutz.
If you can't find a kibbutz, the morning spread at an Israeli hotel should do the trick. This lavish dairy buffet, an event everyone remembers even if the rest of their trip to the Holy Land is a blur, originates from the kibbutz.
Ravenous from waking up at dawn and working in the fields at daybreak, kibbutz workers gathered mid-morning in the communal dining room where a table was unceremoniously laden with seasonal produce, dairy products, cooked eggs, and fresh bread.
When Israel's first luxury hotels opened in the 1950s and chefs were faced with the dilemma of serving breakfast to non-Jewish tourists accustomed to bacon and sausage, they compensated by turning kibbutz-style breakfasts into bountiful buffets showcasing the best local produce and dairy products.
So, when Yom Ha'atzmaut rolls around, skip the hummus and falafel altogether and concentrate on serving a glorious Israeli-style breakfast.  
Israeli Style Breakfast for Two
Herbed omelets, chopped Israeli salad, an array of hard and soft cheeses, yogurt and fruit, marinated fish, cracked olives, vegetable dips, orange juice, and hot pita and rugelach can all be part of your Yom Haatsmaut celebration.
Israeli Inspired Breakfast Tower
The beauty of this meal is that it's so simple to prepare.  Besides chopping a quick salad and making omelets, everything else can be made (or purchased) in advance.  Whether you buy prepared Israeli dips, spreads or cheeses, the secret is not to skimp on the quality.
And always warm your pita before you eat it.
Find more ideas for your Israeli breakfast in this article, What Israelis Really Eat For Breakfast.
Click here to make Israeli Salad, a must for Israeli breakfasts. When coupled with omelets and soft cheese, this triumvirate is the most typical fare on the Israeli breakfast table.