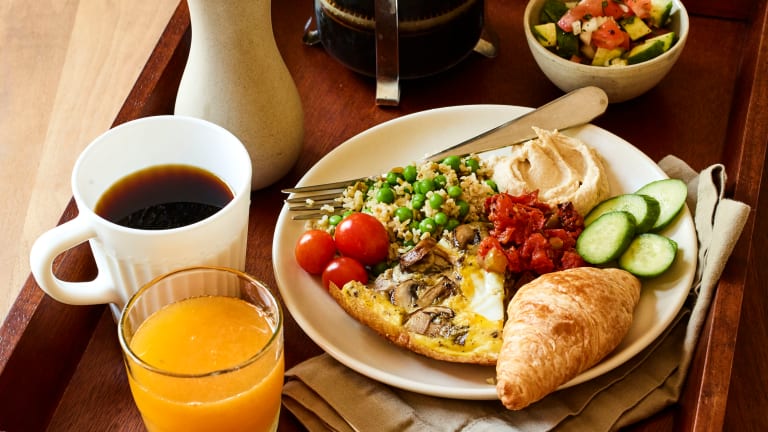 What Israelis Eat For Breakfast
It was just last year, when we wrote the 28 Day Challenge, that I learned from Tamar how other cultures and countries breakfast. Being the world traveler that she is she introduced me to the concept of savory rice bowls consumed at the crack of dawn in China, steamy sunrise miso broth mornings in Japan, and even breakfast beef dumplings in Korea. Savory not sweet, warm but not fried these breakfasts are steeped in thousands of years of tradition.
Breakfast is my favorite meal and I advocate for it on the regular for brunch, lunch, linner and dinner. I like it all: eggs, bagels, (eggs on bagels), pancakes, waffles, french toast and french crepes. Sweet, greasy, fried and carb laden are what my heart craves.
Pure, unadulterated Israeli breakfast is nothing like Asian or American mornings. Eggs come in the form of shakshuka, breakfast sandwiches in the form of sabich, morning pastries = bourekas, hummus and labneh (often zaatar spiced and olive oil spiked) are served with everything and oatmeal and yogurt receive the tahini silan treatment. Add to that salads, salads and more salads and that's how we do it here on sunny mornings in Israel.
I am all about fast, fresh, and family, and nothing screams all those things more than serving breakfast any time of day. It is a vegetarian dream and this tray is inspired by some incredible breakfasts I have eaten in my years living in Israel.  

How To Make Israeli Breakfast?  
ISRAELI-INSPIRED BREAKFAST TOWER
This tempting towering breakfast tier is inspired by Chaba café, in the neighboring Machane Yehuda market. Your family and guests will be thrilled when they can customize their own meal and you can be relaxed knowing the entire meal can be prepared ahead of time. 
I haven't lost my love for the American breakfast. I've only added to it my love for the Israeli breakfast. And my two loves come together as one at the Israeli hotel breakfast buffets - which serve up a slice of Israel alongside the cravings of an American tourist.
See how the Waldorf Astoria Jerusalem serves up their breakfast in this video. 
And now you know why so many pictures of the Waldorf Astoria Jerusalem and Hilton Tel Aviv breakfasts jam up my instagram stories.
What does an Israeli breakfast consist of?
There are so many options.  You can make your own Israeli Style breakfast with these 11 Israeli breakfast ideas.
11 Ways Israelis Eat Breakfast