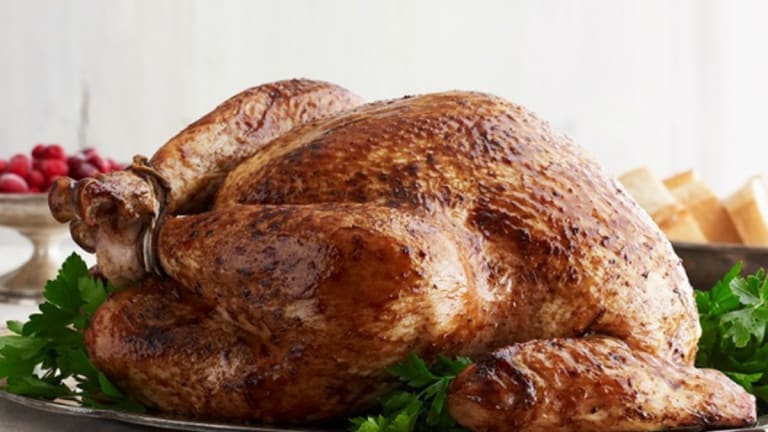 My Favorite Turkey and Stuffing Recipes
I will now share with you one of my absolutely all-time favorite recipes – Sour Mash Whiskey-Glazed Whole Roasted Turkey.  I love this recipe and picture so much that I wanted it to be the cover of my cookbook JOY of KOSHER: Fast, Fresh Family Recipes (William Morrow/HarperCollins 2013). I was outvoted only because it said "Thanksgiving" and was not "universal" enough.  I get that – but still wanted it.
There is a story behind this bird that didn't make the book – it was cut for space – but I am happy to have all the space in the world to share it here.
So it was Wednesday at around 12:40 P.M.
I scooted out of my office…
on a day packed with meetings to grab my favorite lunch, Greek Salad. And I'm waiting on line at the take-out counter, schmoozing on the phone with a friend. I tell her that I'm really worried. She wouldn't pry, but let's say she prodded me gently, and I blurted out emotionally and rather loudly that I just don't know what to do with my brisket! Okay, so a few people turned to look at me and sort of edged away.
Listen, when you write cookbooks, that's a serious, troubling question. I had already done the wine thing, the beer thing, the broth thing, and lots of other things.
"Try bourbon," she piped.
"Bourbon! Of course!" I shouted. And more people kinda shuffled away from me.
So when I got home, I tried bourbon on that brisket, and while it was good, I thought it would be better on a turkey. Hubby got in on the action, and the result was downright perfect. We called my friend. She came over just to confirm what we already knew, and we now had three adults lickin' their fingers just like little kids.
This fabulously versatile recipe can be Dressed Down for a weeknight dinner by pouring the same Sour Mash Whiskey-Glaze over turkey or chicken wings and drumsticks.
Now a Turkey ain't complete without a little stuffing.  This is another one of my favorite recipes.  (Is it possible to have 200 new favorites?), Cranberry Chestnut and Challah Stuffing.  I make tons and tons and tons of stuffing both in the bird and on the side baked up in a casserole dish.  The secret to this stuffing is the Challah and Chestnuts.  They are everywhere now, even in Israel!  
And watch this how-to-make, where-have-you-been-all-my-life, Challah Stuffing.  I made this video a while ago, so it's kind of funny to watch now. 
And exclusively in the book and now excerpted online here my Dress It Up Stuffed Baked Onions.  This beauty of a recipe is perfect for all your entertaining occasions.
Stuffed Baked Onions
Serve the stuffing in baked onions.
1. Peel 5 medium red onions and 5 medium yellow onions and trim the bottoms so the onions can stand upright. Trim about ½ inch from the top and scoop out all but 2 or 3 layers from the inside using a melon baller or small paring knife. Bake the onions at 440°F, covered, in a baking dish with ½ inch water for 30 minutes. 
2. While the onions are baking, prepare the stuffing as on page 80. When the onions are done, pour out the water from the pan, then lightly spray it with cooking spray. Fill each onion with about 3 heaping tablespoons of stuffing, mounding it on top a bit. Reduce the oven temperature to 350°F and bake, uncovered, until heated through and golden brown, 40 to 50 minutes. While the onions are baking, spoon the remaining stuffing into a greased casserole dish. 
3. Cover and bake until lightly browned, about 30 minutes. After the stuffing has been cooked and cooled, you can freeze it in a tightly sealed container. To serve, thaw and bring to room temperature before warming in a 350°F oven for about 20 minutes. If you want to prepare only enough stuffing for the 10 onions, quarter the main stuffing recipe.
If you tried these recipes and loved them or tried and loved any new divine dishes from my cookbook JOY of KOSHER: Fast, Fresh Family Recipes (William Morrow/HarperCollins 2013) please let me know, if you don't have the book yet, what are you waiting for?