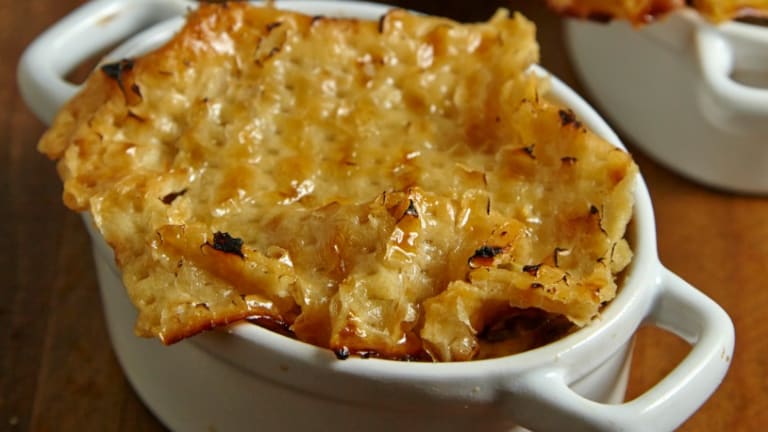 Passover Dairy Lunch Mains
Whether you've had the pleasure of experiencing a Passover hotel dairy lunch buffet or just heard about what it's like in (great!) detail, you know that those chefs put out a spread like nobody's business. I have been to quite a few in my day whether for work or as a guest and can tell you the recipes are so impressive, so creative and so delicious that everyone walks around exclaiming (to themselves, to each other or to anyone within earshot) "I can't believe this is Passover food!"
So this year you can get away without going away and enJOY these luxurious, decadent, and EASY, Passover, dairy, lunch, entrees. Make sure to take some pictures, believe me, you will be so proud of your creations you'll want to show them off.
Butternut Squash Matzo Lasagna
An exquisitely creamy, warm, earthy year-round recipe that we adapted for Passover with matzo sheets in place of lasagna noodles.  It's not only easier than traditional lasagna but might actually taste better too!
When I tested this recipe I ate 6 rolls all by my lonesome (no, not recommended!). P.S. you will want to fry EXTRA eggplant, so you can snack on it while filling, rolling and baking the dish.
Creamy Spinach Torta in a Potato Crust
Too pretty for words this showstopper looks just as good as it tastes. Be sure to grab your camera to chronicle your creation before digging in and don't forget to share it with us on social.
Make a Passover crust or skip the crust completely for this simple lunch over Passover.  
Serve your favorite fish (doesn't have to be Mahi) with a creamy tzatziki for a Greek-inspired lunch. 
There's nothing better than sweet tomatoes with fragrant and fresh basil, except maybe the addition of fresh Mozzarella.  The perfect light lunch with a slice of matzo on the side. 
Meaty mushrooms and creamy sauce make this hearty, filling, satisfying and perfectly excellent for vegetarians.
You can make these bourekas simply with potatoes, but when you add cheese, it feels more like a meal.  Don't you just love what you can do when you wet a piece of matzo!
We love matzo pizza! My family could eat this every day, but I do like to go beyond the classic tomato and cheese some of the time.  Check out all our creative matzo pizza recipes here. 
Most of these recipes have matzo in one shape or another, if you're looking for some Passover recipes for lunch or dinner that are matzo free, check out 25 Matzo Free Recipes for Passover. 
Happy Passover!