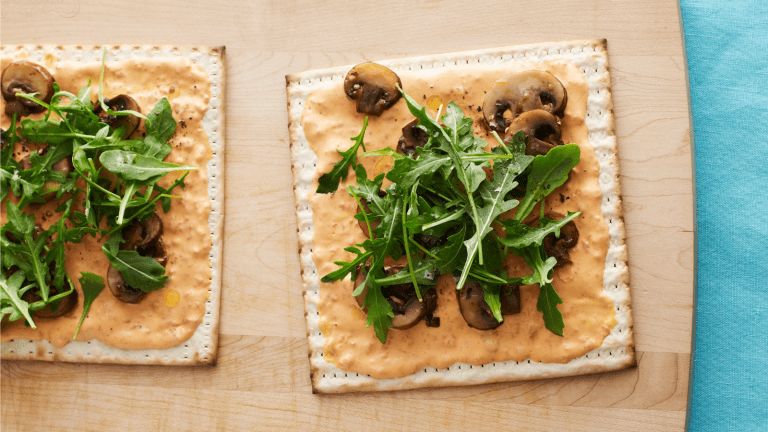 Matzo Pizzaz: Eight Days of Matzo Pizza in Eight Ways
Want the deep dish on how to turn your Kosher for Passover kitchen into a trattoria? 
Use whole wheat matzo or shmurah matzo for a perfect pizza crust. Matzo pizza is a kid-friendly, quick, dairy meal during Pesach that is always a favorite in our house. This year, skip past the plain sauce and mozzarella and spice things up with some gourmet toppings that will give your pizza some pizzaz!
In general on Passover, we prefer to make recipes that are inherently kosher for Passover. But there are two exceptions, matzah brei and matzah pizza. Two foods everyone enjoys so much we wonder why we save them only for Passover. 
Let us know what you think of our eight recipes below and share your favorite matzo pizza ideas with us!
Use your favorite mushrooms, salute them if you like and top your pizza for some great flavor.
2. Spinach and Artichoke Matzo Pizza
Make this spinach and artichoke dip and dip your matzo in it or top your matzo and bake it off like this pizza.  Best Passover recipe ever.
3. Pear, Oven Roasted Tomatoes and Goat Cheese Matzo Pizza
Dress it up with pears and tomatoes and goat cheese - perfect for a light snack or elegant app.
Who doesn't love pesto?  It is really great on matzo too.
5. Roasted Red Pepper and Arugula Matzo Pizza
The creamy sauce is the perfect base for the bitter greens.
Try something completely different for those meat lovers out there, a meat matzo pizza. 
If you have leftovers Israeli salatim, use them in place of tomato sauce, turkish and matbucha work great. 
8. Avocado and Tomato Matzo Pizza
If you haven't topped your pizza with avocado you are missing out. 
A few more Matzo Pizza Recipes we love: