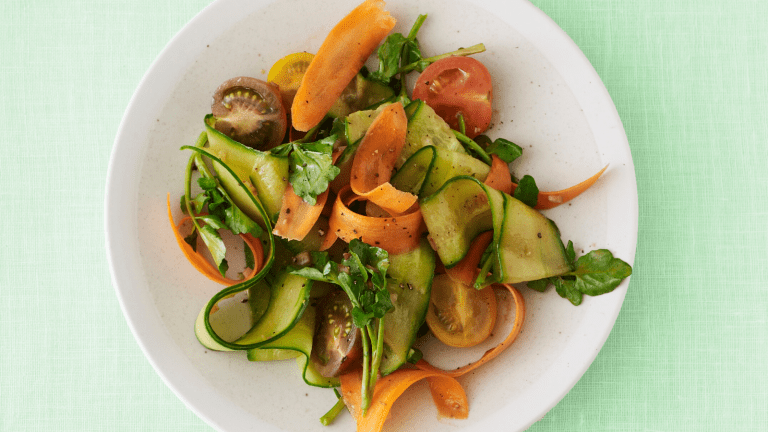 Passover Menu How To
When planning your Passover menus there are a few tricks to keep in mind.
Get your guest list straight. Know who is coming, what they eat, and what they don't. Even if your guest list is just you and your husband or your kids, plan foods you all love.  There are enough restrictions this holiday to not eat foods you like. 
Plan lots of salads and vegetables. They are easy to make, colorful, delicious and don't need many special Passover modifications.  
These sweet caramelized carrots are a simple but elegant dish that pairs well with almost everything!
 A simple healthy recipe that will bring color to your table.
Balsamic Cucumber and Carrot Ribbon Salad
The ribbons of vegetables look beautiful on the plate, and taste even better.  This salad is less work than it looks, all you need is a vegetable peeler to cut the veggies into ribbons.
Creamy Kale with Capers and Hazelnuts
This salad is the perfect combination of soft and crunchy. The kale is deliciously smooth while the hazelnuts provide that much-needed crunch.
3.  Soup!
Everyone loves matzo ball soup on Passover, but don't stop there.  Soups can be made in large quantities, use up all the extra vegetables lying around and freeze well. Check out all our Passover soup recipes. 
Try this flavorful matzo ball soup for your seder and make it a double or be prepared to have no leftovers!
4. Make a variety of mains or better yet make mains that have sides mixed in, such as stuffed chicken, stuffed peppers or chicken baked quinoa. 
Sub the bulgur for quinoa. 
Leave out the mustard. 
If you don't eat Kitniyot just switch out the rice for quinoa.
Teriyaki Mushroom Stuffed Chicken Breasts
This stuffed chicken is family-friendly and reheats well.  Just use Passover teriyaki sauce. 
5.Last, but not least, desserts!
Desserts are the most popular type of Passover recipes on this site.  We have everything from the best chocolate chip cookies to the gooiest brownies so you can make all your favorite desserts or try something new.  
Because who doesn't love chocolate dessert!
Here are a few more seder menus from years past Passover Menu Ideas, but don't forget it's an 8 day holiday, the more you plan now the easier it will be later.