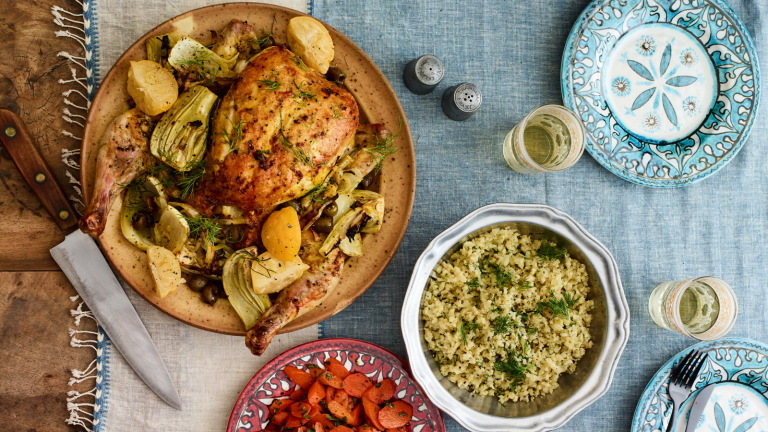 Passover On a Budget: 6 Tips for Keeping It Simple
Though many Passover hosts and hostesses feel enslaved by intense holiday preparations, here's how you can create a stylish and sophisticated Passover seder with ease.
The Centerpieces
When the Passover table is crammed with wine bottles, glasses, seder plates and boxes of matzo, finding the right centerpiece can be tricky.
Susie Fishbein, author of the Kosher By Design series, suggests using topiaries because they provide height without obstructing the view.
"Topiaries do not die so you can start with white roses in the arrangement for the seders and switch to lemons or strawberries for the end of the holiday," says Fishbein.
For large tables, scattering clusters of flowers in bud vases add color without the bulkiness (or expense!) of a formal arrangement.
Budget Tip for Centerpieces:
Opt for vibrant colored tablecloths with patterned textures and choose simple flowers within variations of two colors that contrast with the tablecloth. As long as the flowers are in the color scheme, inexpensive ones will do the trick.
The Setting
An extraordinary setting can have a dramatic effect. For those lucky to live in a warm climate consider setting the seder table outdoors. Hang Chinese lanterns and string lights for a dazzling effect. Play with the lighting by positioning standing lamps from your living room at the ends of the table to contrast with outdoors.
If the seder will take place inside, enhance the mood by using comfortable armchairs, low couches or recliners imported from the living room.
Budget Tip for The Setting:
Reuse illuminated sukkah decorations to enhance the backdrop of your Passover seder.
The Menu
Choosing the right food to serve at the seder is just as important as the beautiful table on which it is presented.  Determining appetizers, entrees, and side dishes that meet your budget can be overwhelming.
Instead of making seven different courses, prepare simple dishes that show you put in time and effort. Don't feel like you have to serve meat, fish, and chicken.
Whatever budget-friendly dishes you choose, opt for ones that can be prepared in advance so you can enjoy the seder. Ideas include a Mediterranean Passover fattoush salad that just needs to be dressed before serving or horseradish-crusted fish that can be plated ahead of time.
Browse our Passover Menus or make it even easier and sign up for our 9 days of Passover Meal Plan.
Budget Tip for The Menu:
Appreciate the elegance of chicken bottoms. As long as this low-cost entrée is prepared well and tastes delicious, no one will notice that there isn't an expensive cut of meat on the menu.
Personal Touches
When guests feel at home, an average seder is turned into a glorious one. By placing individual mini-seder plates at each setting, guests will have the essentials at their fingertips. Find out in advance if any of your guests are allergic to wheat; purchase oat or spelt matzo for them. This thoughtful gesture goes a long way.
As you prepare for the holiday, shop with the seder in mind. Guests remember personal touches like decorating napkins with inexpensive stretchy plastic frogs or placing glass swizzle sticks with emblems of the Ten Plagues in each goblet.
Creative place cards that double as mementos will further enhance the seder. To make individual bookmarks with guests' names, decorate felt strips with ribbon and beads and write each guest's name with fabric paint. Place the bookmarks in a Haggadah at every place setting in order for guests to know where they are sitting.
Budget Tip for Personal Touches:
Besides dollar store finds, discount websites sell party knickknacks at low prices. Shop in advance so you qualify for "free shipping" deals from internet party sites like Oriental Trading.
Bringing it all Together
Most importantly, the hostess should feel relaxed on the night of the seder. Consider putting aside money in your Passover budget to spend on an important purchase that will help you enjoy the seder with a smile.
Think of it as a long-term Passover investment. Instead of spending on expensive ingredients, use the money saved to buy a food processor so your Passover cooking will be a breeze. Who can enjoy the seder after grating 10 pounds of potatoes by hand?
Or, if you are expecting a large crowd, use the money to hire help with cleaning pre-holiday or during the seder and other food preparation.
Whatever you choose, remember, you deserve it!
Budget Tip for Passover:
Ditch paper tablecloths and plastic dishes and invest in reusable items like a gorgeous easy-to-wash tablecloth and real dishes.