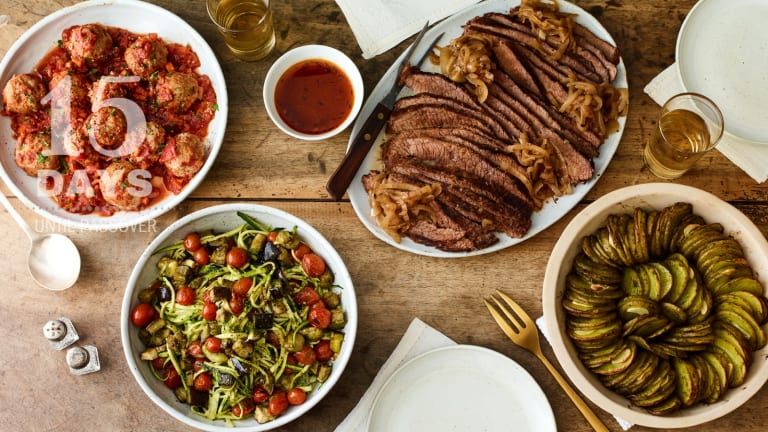 15 Days Until Passover: A JOY of KOSHER Potluck Passover Seder Menu
Every year we write up lots of Passover Menu plans for you.  Everything from A Moroccan Seder from Levana, to a Chinese Seder from Tamar, to a Mix and Match 15 Minute Prep Seder from Jamie.  This year we joined forces and came together to create one grand Passover seder menu for you with 2 recipes each from Jamie, Tamar, Shifra and Laura.  To get each of all full seder menus all you have to do is get our magazine. 
In this issue of JOY of KOSHER with Jamie Geller we have Jamie's 4-ingredient seder, Tamar's healthy seder, Laura's gourmet dairy seder and Shifra's new modern seder.  Don't miss out and subscribe now. 
Here is our potluck seder menu. 
LOX DEVILED EGGS WITH AVOCADO by Tamar Genger
We always have hard boiled eggs at the start of the seder, so a few years back I decided to start changing things up and trying different ways to make that part of the meal more interesting.  This year I went with healthier deviled eggs, where I used avocado instead of mayo and added a bit of lox so it can count as our fish course too.  
PARSLEY SOUP by Tamar Genger
I am normally a matzo ball soup person — it is tradition. But to change things up a bit  for our pot luck seder, I wanted to incorporate something from the seder plate.  That is how I discovered my new found love for parsley soup, healthy and delicious and light enough to leave room for the main course. 
For a full healthy seder menu by Tamar Genger subscribe to our magazine. 
SLOW BRAISED BRISKET AND ONIONS by Jamie Geller
There is nothing more comforting and familiar than the knowledge that a brisket is quietly simmering away. Brisket has some of the tastiest and richest meat and fat of any cut of beef. I just love the simplicity of this recipe and you can't beat the combo of brisket and onions.  
TOMATO ORANGE CHICKEN MEATBALLS by Jamie Geller
This dish is a true crowd pleaser. The fragrant tomato sauce will be your new go-to sauce for meatballs. The sauce brings a lot more to the party than just tomato. Sweet onions, carrots, and fragrant orange zest make this sauce mouthwatering and the perfect foil to meatballs.
For a Jamie's 4-ingredient Seder Menu subscribe to our magazine. 
BASIL OIL SCALLOPED POTATOES by Shifra Klein
Both my side dishes start with basil oil so they complement each other well. 
Potatoes are one of my favorite ingredients and believe it or not, I never get tired of potato dishes on Pesach, despite its reputation as a too-much-potato holiday. This basil-infused dish provides the best of what potatoes have to offer; as it achieves both the creamy and crispy texture that make potatoes so addicting.
DECONSTRUCTED RATATOUILLE by Shifra Klein
Ratatouille is a classic family recipe that finds its way to almost every meal throughout Passover. This version provides an updated twist on the flavors of ratatouille with the amazing flavor enhancement from the basil oil.
For a full Modern Seder Menu from Shifra Klein subscribe to our magazine. 
 MEYER LEMON SABAYON by Chef Laura Frankel
A thick creamy dessert sauce that is sophisticated and elegant and prepared with items you probably already own! Sabayon (zabaglione in Italian) can take anything from ordinary to stellar.
SAMOA CAKE by Chef Laura Frankel
This cake is like a giant, chewy cookie. Not only is it gluten free, but it is easy to make and perfect all year-round. The cake layer can be made up to 2 days in advance and can be stored, tightly covered, at room temperature.
For a full gourmet surprise seder menu by Chef Laura subscribe to our magazine.